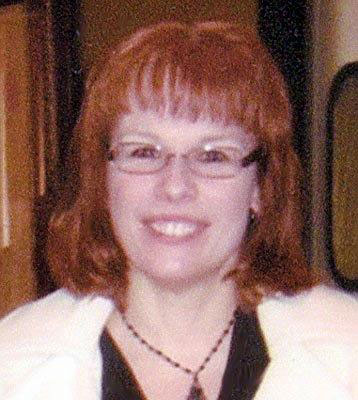 PATRICIA LOUISE GORA
YOUNGSTOWN – Patricia Louise Gora, 48, passed away Thursday afternoon, March 14, 2013, at Hospice House.
Patricia was born March 23, 1964, in Youngstown, a daughter of John and Gertrude Swierz Gora, and was a lifelong area resident.
She was a 1982 graduate of Cardinal Mooney High School, and earned an associate's degree from Youngstown State University in 1984. Patty had worked as a cashier since 1981 for Value King / Giant Eagle, and also worked in the accounting department at Roth Brothers since 1985.
She was a member of St. Stanislaus Church in Youngstown and the St. Stanislaus Catholic War Veteran's Post No. 1222 Ladies Auxiliary. Patty enjoyed walking and exercising.
Patty's biggest enjoyment and passion in life was watching her nephew, J.W., play baseball with the hopes of watching him play in the major leagues one day.
Patricia leaves her mother, Gertrude Gora of Youngstown; two brothers, John (Rhonda) Gora of Austintown and Bobby Gora of Youngstown; and her nephew, J.W. Gora of Austintown.
Her father, John; and a sister, Theresa Gora, are deceased.
Family and friends may call from 4 to 7 p.m., Sunday, March 17, at Kinnick Funeral Home, 477 N. Meridian Road, Youngstown.
Funeral services will begin at 9:15 a.m. on Monday at the funeral home, and continue with a Mass of Christian Burial at 10 a.m. at St. Stanislaus Church, 430 Williamson Ave., Youngstown.
Interment will follow at Calvary Cemetery in Youngstown.
In lieu of flowers, Patty's family requests that memorial contributions be made in her name to Hospice House, 9803 Sharrott Road, Poland, OH 44514.
Visit kinnickfuneralhome.com to view this obituary and to send condolences online to Patricia's family.
Guestbook Entries
"Your fellow classmates are saddened by your passing and pray that your soul now rests in eternal peace. "
» Cardinal Mooney Class of 1982 on March 16, 2013
"My deepest sympathy I worked with Patty at Giant Eagle she was a wonderful girl."
» Lyn Armbrecht on March 16, 2013
"I met Patty at Body Shapers aerobics classes in 1989. What fun we had. Patty was one of the most kind, caring and giving persons I have ever met. I am so saddened by her passing. May you rest in peace with the angels, Patty Cakes! Love you!"
» Lora Gayan on March 16, 2013
"We are so sad at the loss of a wonderful person. Our deepest sympathy to the Gora family."
» Bob and Barb Wolfe on March 16, 2013
"My thoughts and prayers go out to you and your Family. She always was so positive and caring sweet girl."
» Ray Brownlie on March 17, 2013
"Our thoughts and prayers will by with you all. Patty was always pleasant and polite and always treated Jessica so kind."
» Gayle, Dave & Jesica Bartholomew on March 17, 2013
"Our deepest sympathy in the loss of Patty....we fondly remember her cheering John's baseball teams...Much love and prayers to all of you.... The Gaudet Family"
» Gabriela Gaudet on March 19, 2013
"so sad to here the news about patty...i have know her since we were in school at st. stans together. she was one of the nicest people anyone could ever meet. so sweet and always smiling!! may god comfort your family during this difficult time."
» jackie giambattista on March 22, 2013
Sign the Guestbook
---