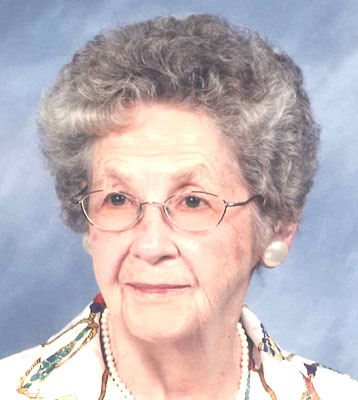 MARY ALBERTA ROTH
AUSTINTOWN – Mary Alberta Roth, 95, passed away peacefully, March 15, 2013, at Austinwoods Nursing Center.
She was born Nov. 18, 1917, in Lorain, the daughter of Jesse and Ethel Maude (French) Randel.
Mary was a 1935 graduate of Austintown Fitch High School and of Youngstown State University School of Nursing and was employed with Sleighbell Nursing Home. She was a member of the Austintown Community Church and a former member of the Eastern Star.
She will be dearly missed by her four daughters, Mary Louise Quisenberry of Austintown, Carolyn Stellers of Austintown, Elaine Jean (Jim) Payak of Kentucky, and Phyllis A Roth of Pittsburgh; two sisters, Glenna Verba of North Carolina and Beverly Bord of California; nine grandchildren, Jeffery, Carolyn, Mary, Randy, David, Burt, Christopher, David and Alex; and 15 great-grandchildren.
Mary was preceded in death by her two husbands, Ewing Creed, who passed away Sept. 6, 1947, and Herbert Roth, who passed away Feb. 24, 1994; her son, Herbert Roth Jr.; two brothers, Warren and Morgan Randel; a son-in-law, David Stellers; and her parents.
Funeral services will be held Tuesday, March 19, 2013, at the Austintown Community Church at 11 a.m. Friends will be received from 10 a.m. until the time of the service.
Interment will be at Brunstetter Cemetery.
Arrangements are entrusted to the Lane Family Funeral Homes, Austintown Chapel.
Family and friends can visit www.lanefuneralhomes.com to send condolences.
Guestbook Entries
family
"All of our love and prayers are with you."
» verba on March 19, 2013
Sign the Guestbook
---