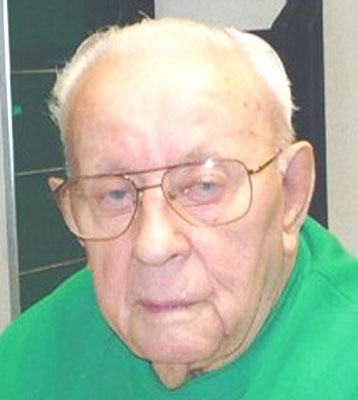 JOHN S. ZETTS
BOARDMAN – A memorial service with Fr. Joseph Fata officiating will be held at 10 a.m. Monday, March 18, at the Kubina-Yuhasz-Wasko Funeral Home in Boardman for John S. Zetts, 97, passed away the morning of March 11, at Briarfield Manor.
John was born in Campbell June 24, 1915, a son of Andrew and Mary Harchar Zetts.
During World War II, he served in the military as a member of the U.S. Army.
John was employed for 18 years as an electrician in the maintenance department of Northside Medical Center, retiring in 1980. He also belonged to St. Luke Catholic Church.
Besides both his parents, he was preceded in death by his daughter, Patricia Latisi; his sister, Mary Nemcik; and his brothers, Joseph and Andrew Zetts.
John is sadly missed by his wife, the former Betty Boughner, whom he married Nov. 4, 1967; his daughters, Linda (Robert) Fossesco of Boardman, Joyce (Ronald) Garvey of Struthers and Darlene (Gene) Yavorcik of Youngstown; 10 grandchildren; and 10 great-grandchildren.
Calling hours will take place Monday at the funeral home from 9 to 10 a.m., one hour before the service.
The Zetts family has entrusted their loved one to the care of the Kubina-Yuhasz-Wasko Funeral Home.
Guestbook Entries
"God bless you and keep you in his loving care. I love you and will miss you, Uncle John."
» Nikki Saulino on March 17, 2013
Sign the Guestbook
---