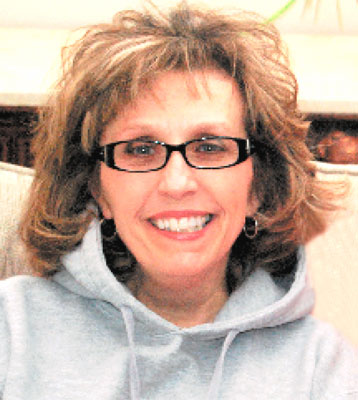 CLARANNE 'CLARE' MCQUADE MARCHESE
WARREN – Claranne "Clare" McQuade Marchese, 55, passed away on March 14, 2013, from complications of acute leukemia following a bone marrow transplant.
Clare leaves her loving husband, Robert A. Marchese, whom she married Nov. 19, 1988.
Clare was born on July 22, 1957, in Youngstown, a daughter of William J. and Ellen Ann (Brahney) McQuade.
More than anything, Clare loved her family and adored her two Siberian Huskies, Jack and Callie.
Clare graduated with honors from Youngstown State University, where she was president of her sorority, Alpha Omicron Pi (AO¼). She earned her bachelor's degree in Elementary Education and her master's degree in Science and Education.
Clare dedicated her life to teaching, which made her truly happy. After a 27 year career, where she touched so many young lives, Clare retired from the South Range School System. Clare also taught at St. Edward Elementary School in Youngstown and St. Mary and Joseph Elementary School in Newton Falls.
Clare was a partner in The Bountiful Basket from 1994 through 1998, where she created and designed exceptional gourmet gift baskets.
Clare is survived by her beloved husband, Bob; her mother, Ellen McQuade; and her two sisters, Jo-Ellen McQuade-Rentsch (Wayne) and Aileen McQuade (Scott Wilson).
She was preceded in death by her father, Bill; and her brothers, William P. and Mark A. McQuade.
Visitation will be Sunday, March 17, 2013, from 3 to 7 p.m. at the Peter Rossi and Sons Memorial Chapel, North Road in Warren.
Visitation will also be at 10 a.m. at the Blessed Sacrament Church followed by a Mass of Christian Burial at 11 a.m. on Monday, March 18, 2013.
The family gratefully acknowledges the wonderful care provided by Clare's exceptional team of doctors at the Cleveland Clinic.
Guestbook Entries
"Bob, Aileen, Jo-Ellen, and Mom, I am so very sad for your loss and my heart aches for you. I pray for God to provide you stregnth through these difficult times. Clare was an amazing person. I had such fun with Clare and I will have many fond memories, especially her smile and her laugh! May God Bless You! Rosemary Roz Walton"
» Rosemary on March 16, 2013
"So sorry Bob, we will see you this weekend and at Mass. Jule and Wally Dunne"
» Jule Dunne on March 16, 2013
"JoEllen so very sorry for your loss. "
» Vicky (naples) Hanni on March 16, 2013
"To the McQuade/Marchese families: Clare was truly a person who touched the spirits of many children throughout her career. I was one of the blessed people to have been honored to have her as my 4th grade teacher at St. Edward's from 1988-1989 school year. Her legacy will live in many peoples' lives. God Bless"
» Kathryn Corey-Ciolli on March 16, 2013
"I am so sorry for your loss. She was my 4th grade teacher at St. E's. She was a great teacher and was always there for me. She was one of my favorite teachers. My prayers and thoughts are with you."
» Maureen McCann on March 16, 2013
"Dear Bob, I was saddened to hear of Clare's passing. She was a wonderful friend and colleague. I remember our teaching days from 1985-2002 at St. Edward School. Thank you for sharing her with so many children, parents, and friends. I will keep her smile, her laugh, and her love in my heart. Her loss is felt all the way in California. God bless you! Cheryl"
» Cheryl Corey on March 16, 2013
"Bob- So sorry to read about your loss. Please accept our greatest sympathies"
» Gail and Michael on March 16, 2013
"My heart truly broke when I saw this tonight. I was privileged to be one of her students at St. Edward. She really believed in me... the shy little girl who actually hated school to that point. I got straight A's that year. She was one of the reasons I am a teacher today! God bless her. "
» Joanne Nohra Wagner on March 16, 2013
"To the Marchese family you have my deepest sympathy. I was very upset to hear of Mrs Marchese's passing. She was my fifth grade science teacher at Saints Mary and Joseph. She was a very kind and patient teacher. She really had a positive impact on my life when I needed it most. She was a great person and teacher. Again my deepest sympathies."
» Brianne Friend on March 23, 2013
Sign the Guestbook
---