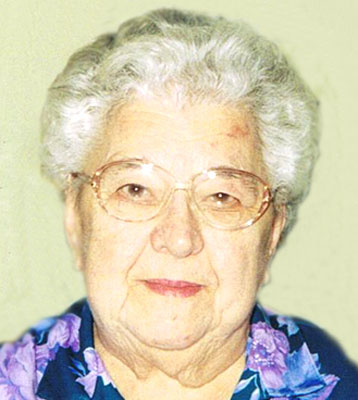 MARY MEEKER
FOWLER – Mary Meeker, 90, died on Friday, March 8, 2013, at 1:10 a.m. at Champion Estates.
She was born on June 1, 1922, in Kittanning, Pa., the daughter of the late Alex and Tonka Hachich Dezich, who were formerly of Yugoslavia.
Mrs. Meeker lived on Cadwallader-Sonk Road in Fowler Township all of her adult life. She was a member of the Fowler Community Church.
She was a devoted wife, mother, grandmother, great-grandmother, great-great-grandmother, sister and sister-in-law. She had many friends throughout her life.
As a lifetime homemaker, she cared for her family and enjoyed her hobbies of sewing, gardening, embroidery, and in her later years she very much enjoyed spending her time on her beloved front porch.
Mary was preceded in death by her loving husband, Walter Lawrence Meeker on Dec. 28, 1995, they were united in marriage on Jan. 20, 1945; two daughters, Shirley Meeker and Linda Colello; one grandson, Allen Meeker; and one brother, Anthony Dezich.
Survivors include her children, James (Cathy) Meeker of Warner Robins, Ga., Jerry Meeker of Vienna  and Rose Trimble of New Caney, Texas; her dear sister-in-law, Frances Dezich of Appollo, Pa. Mary has seven grandchildren, Kathy, Kristin, Brian, Chris, Jason, Ben, and Jimmy; five great-grandchildren, Melanie, Rhiannon, Anna, Dylan, and Josh; three great-great-grandchildren, William, Rebecca, and Lyndell; many nieces and nephews; and two great-grandchildren on the way.  
Funeral service will be held at the Shafer-Winans Funeral Chapel, a Lane Family Funeral Home, at 11 a.m. on Wednesday, March 13, 2013, where Pastor Joel Dickson will celebrate Mary's life.
Family and friends may visit at the funeral home from 5 to 7 p.m. on Tuesday, March 12, 2013, and also one hour prior to the service at the funeral home.
Guestbook Entries
« Be the first to sign MARY MEEKER guestbook.
---