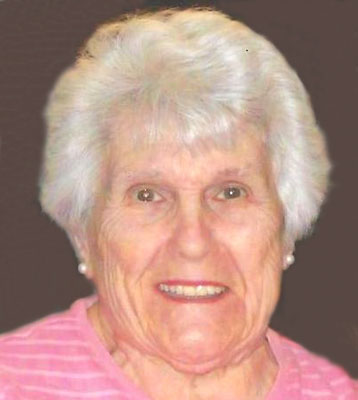 JULIA BONAR
WARREN – Julia Bonar, 88, passed away March 8, 2013, at Hospice House in Poland.
She was born Oct. 31, 1924, in Sharon, Pa., a daughter of Karl and Mary (Bobby) Siwiecki.
Julia graduated from Sharon High School in 1942. After graduation, she worked as a hostess at Camp Reynolds during World War II and a telephone operator prior to working at Packard Electric in the 40s, where she met her husband, Clyde, by the drinking fountain and later married Jan. 22, 1949. Later Julia worked as a secretary for the family business, Sonic Trucking.
She enjoyed traveling, playing cards, lottery, slot machines and dancing. She was a faithful member of St. Pius X Catholic Church in Warren.
Julia is survived by two sons, Craig (Wendy) Bonar of Cortland and Kenny Bonar of Warren; two daughters, Mary Lou (Michael) Rubesich of Warren and Linda Feher of Cortland; 10 grandchildren; 20 great-grandchildren; three brothers, George (Gladys) Siwiecki, Karl Siwiecki, and Bob (Annie) Siwiecki; three sisters, Pauline Ference, Margie (Mike) Granatosky, and Dorothy Zajac.
She was preceded in death by her parents; husband, Clyde in 2005; son, Richard; son-in-law, Robert E. Feher Jr.; daughter-in-law, Betty Lowe; and two siblings, Mary and David.
The family will receive friends today from 4 to 6 p.m. at the Lane Family Funeral Homes, Roberts-Clark Chapel, 180 Garfield Drive, Warren, OH 44483.
A Mass of Christian Burial will be held at 10 a.m. Monday at the Blessed John Paul II Parish (St. Pius X) Catholic Church , 420 North St., Warren, OH 44483. Interment will follow at Pineview Memorial Park.
Family and friends may visit www.robertsclarkchapel.com to view this obituary and send condolences online.
Guestbook Entries
"Julia, You were always so special and wonderful to me as I was growing up. You were to me like a second mother. You will be missed by all who love you, and you are now joining the man you love in heaven. rest in peace. "
» Debi Hill on March 14, 2013
Sign the Guestbook
---