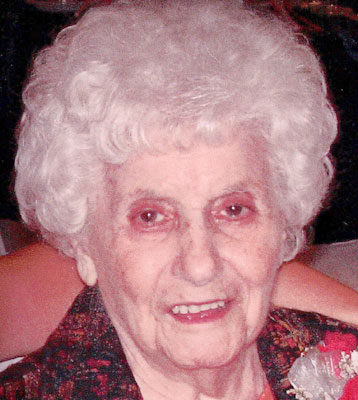 CATHERINE M. 'KATE' SORICE
FLORIDA – There will be a memorial Mass of Christian Burial held on Wednesday, March 13, 2013, at 10 a.m. at St. Charles Church, 7345 Westview Drive, Boardman, for Catherine M. "Kate" Sorice, 95, formerly of Boardman. Kate passed away peacefully on Jan. 11, 2013, in Melbourne, Fla.
Catherine will always be remembered and loved by her family and friends for her strong personality and the way she always put her family first.
She was born Sept. 23, 1917, in Youngstown, the daughter of Nicholas and Lucia (Amicone) Davanzo, and lived in the area until moving to Florida in 2010 to be closer to her family.
Catherine was a homemaker and a member of St. Charles Church. She enjoyed playing cards especially poker, along with cooking and spending time with her family, especially her grandchildren and great-grandchildren.
Her husband, Samuel J. Sorice, whom she married July 4, 1935, died April 12, 1977.
She leaves behind to hold on to her precious memories, two children, Patricia (Robert) Shumaker of Phoenix and Samuel J. Jr. (Kathleen) Sorice of Satellite Beach, Fla.; five grandchildren, Susan Shumaker, Lisa (Brad) Matke, Kelly (Gary) Kling, Samuel J. (Jackie) Sorice III and Alex Sorice; nine great-grandchildren; and a sister, Carmel Catanzaro of Youngstown.
Besides her parents and husband, Catherine was preceded in death by a brother, Michael Davanzo; and a sister, Phyllis Pelly.
Local arrangements have been entrusted to the professional care of the Rossi & Santucci Funeral Home, 4700 Market St., Boardman.
Burial will take place at Calvary Cemetery, Youngstown.
Family and friends may visit www.rossisantuccifh.com to view this obituary, sign the guest book and send condolences to the Sorice family.
Guestbook Entries
Sympathy
"Sorry, we will not be there to offer our support. You are all in our thoughts and prayers. With Our Deepest Sympathy, The Mills Family"
» Mr. & Mrs. Jeffrey F. Mills on March 10, 2013
Sign the Guestbook
---