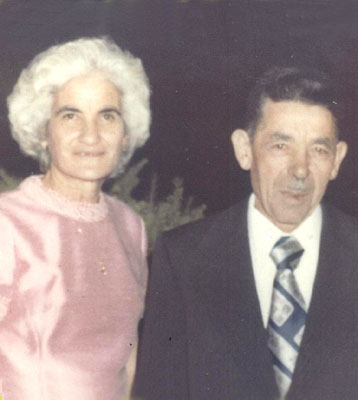 RACHELE MANCINO
"Together Again"
YOUNGSTOWN – Services will be held at 9 a.m. at the Fox Funeral Home and a Roman Catholic Mass of Christian Burial will be celebrated at 10 a.m. on Thursday, March 7, 2013, at Our Lady of Mount Carmel Church, Via Mount Carmel in Youngstown, for Rachele Mancino, 93, who died of complications of pneumonia on Sunday, March 3, 2013, at St. Elizabeth Boardman Health Center.
Mrs. Mancino, who was born on Dec. 24, 1919, in Pietravairano, Caserta, Italy, a daughter of Raffaele Pone and Anna D'Alessio Pone, emigrated to Youngstown on the "Conte Biancamano" with her husband, Antonio Berardino Mancino and her three children on Oct. 15, 1955.
Mrs. Mancino was a devoted wife, mother and grandmother who served her husband, children, grandchildren, friends and neighbors with a consistent, dedicated, unselfish grace throughout her entire life.
She was a member of the Holy Name of Jesus Church in Youngstown and later a member of Our Lady of Mount Carmel Church and was an excellent cook.
Mrs. Mancino was preceded in death by her husband of 53 years, Antonio Berardino Mancino, who died on Feb. 11, 2000.
Mrs. Mancino leaves four children, two daughters and two sons, Dr. Anna Mancino of Lisbon, Portugal, Joseph (Roberta Putigano) Mancino of Poland, John (Martha Frano) Mancino of Youngstown and Mary (Patrick) Means of Boardman, with whom she made her home since June of 2009.
Mrs. Mancino leaves seven grandchildren and one great-grandchild, Natalie Mancino (Dave) Hathaway of Cincinnati, Anthony John Mancino of Seattle, Angela Mancino (Nick) Somogyi of Houston, Jennifer Mancino (Lawrence) Inglee of Los Angeles, Maria Mancino of Poland, Callie Means of Boardman, and Nicholas Means of Boardman and one great-grandson, Luca Joseph Somogyi of Houston.
She also leaves two sisters and two brothers of Italy, Rosa Peluso and Philomeana Paone of Pietravairano, Italy, Luigi Pone of Pietramelara, Italy and Francisco Pone of Pietravairano, Italy.
Five brothers, Giuseppe Pone, Antonio Pone, Angelo Pone, Tomas Pone and Carmen Pone and one sister, Katarina Pone Orsi, all formerly of Pietravairano, Italy, are deceased.
Friends may call from 5 to 8 p.m. on Wednesday, March 6, 2013, at the Fox Funeral Home, 4700 Market St. in Youngstown.
Contributions may be made to the American Heart Association, Our Lady of Mt. Carmel Church or to the charity of your choice.
Family and friends may visit www.foxfuneralhome.org to view this obituary and to send condolences.
Guestbook Entries
"Mrs.Mancino, along with Mr.Mancino were always appreciative of their "Cherry Hill" neighbors. Growing up on Youngstowns West Side as a little red-headed half Italian boy, the Mancino's always had time to teach, show us youngsters to Respect our neighborhood and friends. It is something i Cherish to this day. Even when My family moved to Austintown, i would ride my bike to visit and play with Johnny. God Bless my "OL" family friends during this time. Even though years have gone by, friends will always be there...To Joey, Anna, Johnny,Mary, take care and Thank You for having the values instilled by your Parents. We had a Nice Neighborhood ."
» Billy Carter(Everett-Wa) on March 5, 2013
"With love and a great deal of respect and affection, Michel, Gloria and family."
» Michael Briceland on March 5, 2013
"GOD BLESS the Mancino family during this time. As we all mourn the loss of a logtime family friends from Youngstown's West Side. What a Beautiful neighborhood we had growing up with Anna, Joe. We are all becoming Senior citizens ourselves now. Please feel free to keep in touch. OUR PRAYERS ARE WITH THE ENTIRE "MANCINO FAMILY". "
» Barbara & Janis Carter on March 5, 2013
CARTER
"JOE, CALL ME AT 330-270-3450 WHEN YOU HAVE TIME. THANK YOU.GOD BLESS ALL."
» DOLLY on June 23, 2013
Sign the Guestbook
---