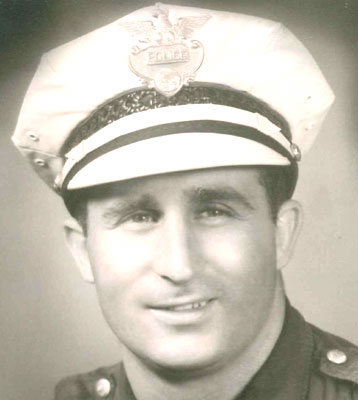 VINCENT W. IANNAZONE
CANFIELD – A prayer service will be at noon on Sunday, March 3, 2013, at the Lane Family Funeral Homes, Canfield Chapel, 65 North Broad St. for Vincent W. Iannazone, 92, who passed way on Feb. 28, at Hospice House, surrounded by his loving family and friends.
He was the son of Massemino and Helen Masi Iannazone and was born on Dec. 4, 1920, in Youngstown.
He was a graduate of East High School. He served in the Army in World War II, where he received five Bronze Stars and one Silver Star for his valor.
Upon his return, he worked as a police officer for the Youngstown Police Department, where he earned the rank of Sergeant. He retired after being injured on duty in 1969.
He married the former Mary Lacivita on Sept. 6, 1945, and they enjoyed 64 wonderful years together. He and his wife enjoyed their children, grandchildren, and going to the horse races with friends.
Vince enjoyed photography, horse racing, going out to breakfast with his good friend, John Prokop and telling stories about his life to his grandchildren.
He is survived by a daughter, Jan Cefalu of Canfield; son, Jack (Kathy) Campbell of Canfield; two grandchildren, Jay M. Campbell and Chelsey Zoldan of Canfield; a brother, Edward Iannazone of Youngstown; a brother-in-law, Michael J. Lacivita of Youngstown; and many other wonderful nieces and nephews.
Vince was preceded in death by his wife, Mary "Mary I," who passed away on July 25, 2011; grandson, Jack V. Campbell Jr.; son-in-law, Vincent Cefalu; his brothers, Victor Iannazone and Gene Iannazone; and a sister Evelyn Cardille.
Friends may call on Sunday from 12:30 to 2:30 p.m. at the Lane Family Funeral Homes, Canfield Chapel.
Contributions can be made to Hospice of the Valley, 9803 Sharott Road, Poland, OH, 44514.
Guestbook Entries
YPD Retired
"Condolences to Jack and Jan and their families on the loss of their Dad. He was my cousin and fellow officer. May he rest in peace."
» Lou Conti Jr on March 2, 2013
"Jan,Jack & family, Our most sincere sympathy to you.Your dad was a wonderful man,pleasant and always friendly.We know you will miss him. Jan,we are in Fl. and just learned of dad's passing. Will call when we get back. May he rest in peace.We love you. Rich &Yvonne"
» Richard & Yvonne Hunter on March 2, 2013
"Jan, Jack & Kathy My heart and my prayers are with you during this time. "
» Sandy Jones on March 2, 2013
Sign the Guestbook
---