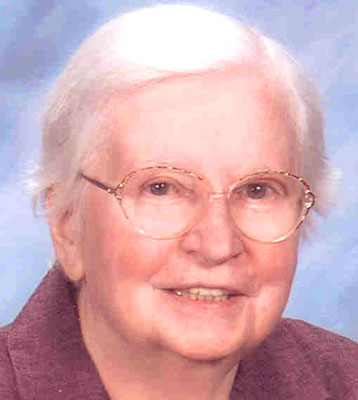 VERONICA 'MUGA' SWAIN
McDONALD – Veronica "Muga" Swain, 89, passed away June 28, 2013, Friday, at Select Specialty Care Youngstown.
She was born July 3, 1923, in Girard, the daughter of Joseph A. and Regina (O'Connell) Frederick.
She was a graduate of Ambridge High School. She was a member of OLPH Church.  She worked at OLPH as a CCD Teacher for 29 years, serving as the CCD Coordinator from 1986 to 2011.
She married John Swain on Dec. 25, 1943, and he passed away Jan. 17, 1989.
Her family was the most important thing to her.
She is survived by her four sons, Michael Swain of Citrus Springs, Fla., Mathew (Cindy) Swain of Austintown, Vernon (Karen) Swain of Cortland and Mark Swain of McDonald; her daughters, Regina (Lou) Kotel of McDonald and Cecelia (Robert) Palguta of Ohio; 12 grandchildren; and three great-grandchildren.
She was preceded in death by her parents; her husband, John; her brothers, Joseph, Regis, and James; and her sisters, Regina Karwoski and Ursula Hansell.
Her funeral Mass will be on July 2, 2013, Tuesday, at 11 a.m. at Our Lady of Perpetual Help Church in McDonald, where there will be calling hours from 10 a.m. until the time of the service.
Guestbook Entries
"I am so sorry for your loss. Your mom was a really great person. I remember all of the great times we had together camping. I will miss her as I miss all of you. I am sorry that I won't be able to be there with you during the celebration of her life. I have to work and there is no way I can get off. I wish all of you the best. My sympathy and prayers are with you. God bless. "
» Tom Franklin on July 1, 2013
Sign the Guestbook
---