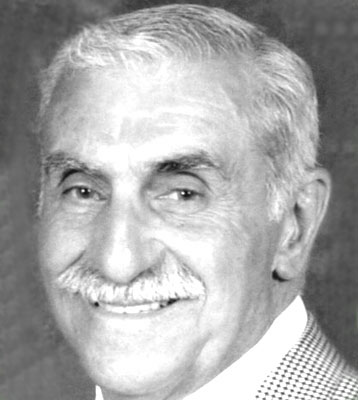 STEVE BELLI
CANFIELD – Steve Belli, 81, passed away early Friday morning, surrounded by his family.
Steve was born May 31, 1932, in Campbell to Domenic and Adeline Belli.
Steve graduated from Campbell Memorial High School and entered the U.S. Navy, receiving an honorable discharge in 1959.
While serving, Steve met the love of his life, Helen (O'Rourke), in Newfoundland, Canada. They were married in January of 1954 and had been happily married for 59 years. Together they enjoyed many walks in Mill Creek Park.
Steve was a Campbell Police Officer for 30 years, retiring in 1989. After his retirement, he enjoyed working with his son-in-law, Dante, at Do-Cut Sales and Service for 12 years.
Steve is survived by four children, Maureen Klim of Poland, Rosemary (Dante) Terzigni of Howland, Dr. Stephen (Dr. Belinda Fiorini) Belli of Kent, and Mark Belli of Hudson. He also is survived by 16 grandchildren; two great-grandchildren; and two great-grandchildren on the way. He also is survived by his brother, John (Mary) Bell of Lowellville; and sister, Claire Gatti of Canton.
Steve was preceded in death by his parents, Domenic and Adeline Belli, and his brother, Dr. Elmer Belli.
Steve enjoyed spending time with his family, most of all. He also enjoyed gardening, making wine, and making sausage. He loved vacationing at the ocean with his children. "Grandpa was always the life of the party and his smile lit up the room."
Friends and family may call today from 4 to 7 p.m. at the Wasko Family Funeral Home on Coitsville Road in Campbell, where a prayer service will be held at 3:45 p.m.
Funeral services will be held Monday, July 1, at 1 p.m. at the Wasko Funeral Home and at 1:30 p.m. in the afternoon at St. Lucy Catholic Church in Campbell, with Father Don King and Father Patrick Manning officiating. Burial will follow at Resurrection Cemetery in Austintown.
Memorial contributions in Steve's name may be made to St. Lucy Catholic Church.
Visit www.waskofamily.com to view this obituary and to send the Belli family condolences.
Guestbook Entries
"please accept our condolences on your loss. Mark & Annette & Markus & Shelby"
» Mark & Annette Wellington and Family on June 30, 2013
Sign the Guestbook
---