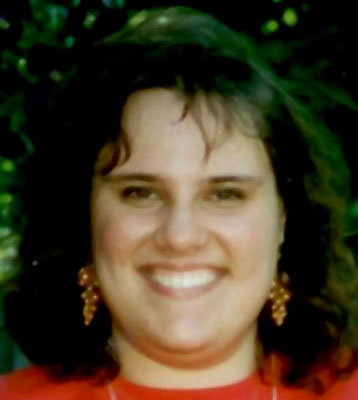 PAMELA MARIE 'TEDDY' DUTKO
CAMPBELL – Funeral services will be held Tuesday at 11 a.m. at the Wasko Funeral Home and at 11:30 a.m. at St. Patrick Catholic Church in Hubbard, officiated by Father Timothy O'Neill, for Pamela Marie "Teddy" Dutko, 42, who passed away on Wednesday, June 26, after a courageous and dignified 20 month battle with synovial sarcoma.
She was the beloved "baby" of the family, a daughter of Emil and Mary Gerevich Dutko. She was born March 24, 1971, in Youngstown.
She graduated from Campbell Memorial High School in 1989 and Youngstown State University in 1996, with an Associate's Degree in Applied Science.
Pam was a Registered Respiratory Therapist and worked with great pride in several area facilities, including most recently, Edison Manor prior to her illness.
She leaves behind to cherish and grieve her memory, her beloved older sisters and best friends, Eleanor and Debra Dutko, "angels" who spoiled and pampered her and with whom she made her home; a brother and sister-in-law, Emil and Rosemary Dutko and niece Emily Dutko, all of Hubbard; her beagle son, Max; a loving and special friend, Rod Sims of California; and other supportive relatives and friends.
Despite losing her parents at a young age, she was an intelligent, beautiful loving professional with a heart of gold and a beautiful smile, who some would say (and she knew who) "hoarded," haircare products, makeup, clothes, shoes, rings, pens and gum. She also had the best looking teeth due to her meticulous dental hygiene.
She nurtured and took care of all the stray animals that crossed her path in the neighborhood. She loved being at home with her family enjoying her cooking, murder mystery paperback books, word circle find books, cooking network shows, shopping, her swimming pool, treadmill, and vacations with her family to Florida.
Thanks to all who touched her life during her illness with kindness and compassion, including Dr. "PK" and Michelle from St. Elizabeth Wound Clinic, Dr. Cutrona, Dr. Limbu, Dr. D. Singh, Kathleen Patterson, CRNP of University of Michigan Sarcoma Clinic, Anne at Vista Center, and a special thanks to Dr. N. Doe and staff at St. Elizabeth Home Medical who assisted in helping her accomplish remaining in her home with her family.
The Dutko family requests that any material contributions be sent to the Sarcoma Alliance in Pam's name.
The Dutko family has entrusted their loved one to the care of the Wasko Funeral Home and will receive friends Monday from 5 to 7 p.m.
Visit www.waskofamily.com to view this obituary and send the Dutko family condolences.
"He who believes in me shall never die. Blessed are the sick."
Guestbook Entries
"Rosemary and Family, we were so sorry to hear about your loss. You have our deepest sympathy. "
» Sue Taylor on June 30, 2013
Sign the Guestbook
---