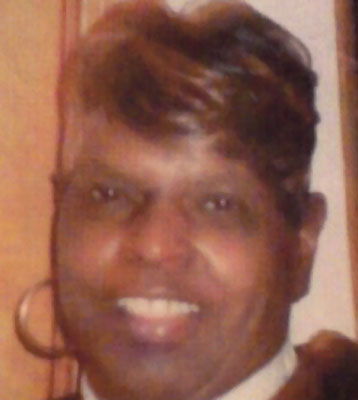 JANICE DENISE WOODS
DAYTON – Funeral services will be held at noon on Monday at the Bibleland Church of God in Christ for Miss Janice Denise Woods.
Sister Janice Denise Woods was born in Youngstown on April 10, 1955, to her parents, Perry and Essie Mae (Gamble) Woods.
She was called home to be with the Lord on June 24, 2013. She was surrounded by her family at Hospice House in Dayton.
She attended The Rayen School. Sister Janice Woods was a member of the Bibleland Church of God in Christ, where she accepted the Lord as her personal savior.
Sister Janice had an amazing personality and fun loving sense of humor. She will always be remembered for her ability to reenact her humorous stories. She was lovingly called Aunt Banana by her nieces and nephews.
She leaves to cherish and treasure her memory, three children, Jerome and Sinchonia Woods, both of Youngstown and Sawaila Woods of Dayton; 13 grandchildren, Carlwailen, Janazia, Jerray, Khalil, Kaysha, Jalaya, Jaylin, Jahlia and Jerome II, Benjamin, Brayleona, Bryesha and Asyria; six sisters, Leslie (Julius, deceased) Norman, Sylvia (Arthur) Clinkscale, Cheryl (Kendrick, deceased) Silas and Arlene Woods, all of Youngstown, Delores Rene (Elder Maurice) Tucker of Hubbard and Ruby Joann (Walter) Duncan of Liberty; two aunts, Gladys Parker and Better McQueen, both of Youngstown; and a host of nieces, nephews, cousins, family and friends.
She was preceded in death by her parents, Perry and Essie Mae Woods Sr.; brother, Perry Woods Jr.; sister LaVern Woods.
She will be missed.
Arrangements are being handled by the F.D. Mason Memorial Funeral Home.
Guestbook Entries
With sympathy
"Cheryl,Sylvia and the family my heart goes out to each of you. Keep your hands in God's hand,knowing that Janice is no longer suffering.PRAYING FOR EACH OF YOU."
» Racheryl D.Parkman-Clark on June 28, 2013
"So sorry to hear of your losss; my prayers are with you. "
» Herma on June 28, 2013
"Dear Rene, God's gift of time We all need a time to grieve - quiet time for reflection to sift through memories and come to grips with what has happened. We all need a time for tears, not for the one who is now at peace in heaven, but for ourselves as we realize that things will never be the same. We all need a time to just "be" when we can open ourselves to God and let the reassurance of His everlasting love start to heal our broken hearts. Praying for you and wishing you peace. "
» Roslyn Bunny Gatewood on June 28, 2013
"To the Woods Family on behalf of the Lewis Family we offer our sincere condolences to you. We all grew up together and as the years came and went there remained a strong bond with your sister Janice and my sister Carolyn they were like sisters. She will be missed however thank God for the fond memories that will carry on through out the family. God Bless you all! "
» Kay F. Lewis-Boston on June 28, 2013
Sign the Guestbook
---