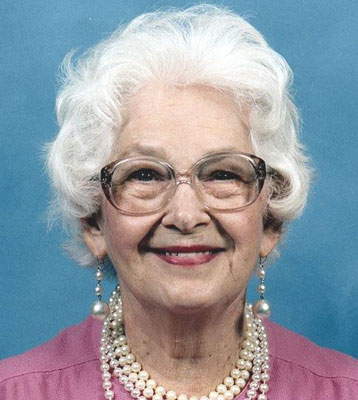 STELLA QUINN
NORTH LIMA – Stella Quinn, 94, formerly of Crandall Avenue in Youngstown, passed away peacefully late Wednesday evening, June 19, 2013, at The Assumption Village with her family by her side.
Stella was born in Conemaugh, Pa., on June 27, 1918, the daughter of the late Michael and Helen Leggins Szalaj, and came to the Youngstown Brier Hill community as a young girl with her family.
She was a homemaker and worked at the former Atlantic Mills Department Store after raising her four children.
Her passion was making afghans, quilts, and rag rugs, and she loved sewing, crocheting, and ceramics. Stella also donated many hours of her time to community service. She was active in the Ladies Auxiliary of the Polish Legion of American Veterans, Post No. 87, marched in the Veterans Day Parades, provided homemade baked goods for the veterans, and made yearly trips to the Veterans Hospital in Butler, Pa., to entertain the sick servicemen.
Stella was a steward and a life long member of St. Casimir Church in Youngstown. She was a member of the Altar & Rosary Society, was a member of the church choir, maintained the priests' vestments and altar covers, assisted in cleaning the church, and was a helper in the kitchen at bingo. She was also active in the Casey Club, was a member of the school P.T.A., and participated in the school bake sales.
Stella was especially well-known for her famous donuts that she made for the children every summer at Chestnut Grove Park, Geneva-On-The-Lake.
Her husband, Raymond F. Quinn, whom she married April 11, 1939, passed away Sept. 24, 1990.
Mrs. Quinn leaves to cherish her memory, two sons, Robert Quinn of Boulder, Colo. and Richard (Mary) Quinn of Boardman; two daughters, Patricia Cognata of Fredericksburg, Va. and Kathleen (Joe) DiStazio of Wheaton, Ill.; 10 grandchildren, Timothy (Donna) Cognata, Terrence Cognata, Ted (Haley) Cognata, Danny (Laura) DiStazio, Christine DiStazio, Michael (Katie) DiStazio, Colleen Quinn, Shannon Quinn, Ryan Quinn, and Mary Brigid Quinn; seven great-grandchildren, Tim Jr., Allie, Samuel, Nicholas, Dominic, John, and Annabelle; and her sister Mary Nowak of Maumee.
Besides her husband, she was preceded in death by two brothers, Mack Szalaj and Brownie Szalaj.
Family and friends may call from 6 to 8 p.m. today, June 23, at Kinnick Funeral Home, 477 N. Meridian Road, Youngstown.
Funeral services will begin at 9:15 a.m. on Monday at the funeral home, and continue with a Mass of Christian Burial at 10 a.m. at St. Christine Church on South Schenley Avenue in Youngstown.
Interment will follow at Calvary Cemetery in Youngstown, where Stella will be laid to rest next to her husband.
Stella's family wishes to thank the care givers of The Assumption Village for the kindness shown and care given to Stella during her stay there.
Visit kinnickfuneralhome.com to view this obituary and to send condolences online to Stella's family.
Guestbook Entries
"To all of the Quinn's, Your MOM was indeed a great lady and was always so nice to me when I was growing up and visiting 770 Crandall Avenue.I will always remember her!"
» Paul Madacsi on June 23, 2013
Sign the Guestbook
---