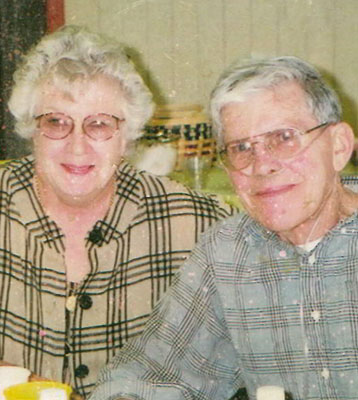 NANCY J. CREED
"Together Again"
STRUTHERS – Nancy J. Creed, 81, died Tuesday morning, June 18, 2013, at Maplecrest Nursing Home.
Nancy was born May 21, 1932, in Montreal, Canada, a daughter of the late Norm and Kay Robertson Moffat.
She was a graduate of Peterborough High School and later received an Associate's Degree in Business from Youngstown State University. Nancy retired after 23 years as the administrator of Maplecrest Nursing Home in Struthers.
Nancy was very active throughout the community and was a friend to all and a stranger to none. She was a member of the Struthers Parkside Church, formerly the Struthers Presbyterian Church, where she served lunch every Tuesday to the Struthers Rotary Club, a very active member of the former Struthers Business Association, and a member of the Red Hat Society.
Her husband, William Creed, whom she married July 10, 1954, died March 2, 2002.
She is survived by her daughter, Lee Anne (Brian) Newland of The Woodlands, Texas; son, David Creed of Struthers; grandson, Austin Newland; granddaughter, Alison Dethrow; great-grandsons, Sam and Max; sister, Donna Joyce of Norfolk, Va.; and dear friend, Harold Milligan.
A memorial service will be held Tuesday, July 2, 2013, at 11 a.m. at the Davidson-Becker Funeral Home in Struthers, where family and friends will be received Tuesday from 9 to 10:45 a.m., prior to the service.
Nancy's family requests that contributions be made in her name to the Head Injury Association, 300 Kennedy Drive, Hauppauge, NY 11788, which was very close to her heart.
Please visit www.beckerobits.com to send condolences.
Guestbook Entries
"Hi Leanne & David. I am so sorry to hear about Nancy. She will be dearly missed by a lot of people. We will share a "happy days" toast this weekend when we are all at the cottage together. We have many happy memories of you all at the cottage on Clear Lake Canada and the many fish fries! Our thoughts and prayers are with you. Love Susie, Chris Hill, Nancy Ayer, Sally Burns, Rob Ayer and Bev (Ayer)Statham. "
» Susie Ayer Hill on June 24, 2013
"Hi Leanne and David, I just heard about Aunt Nancy and am so sorry to hear. I got a chance to catch up with her a few months back and we had quite a few laughs. She was like a second mom to us girls and will be truly missed. My thoughts and prayers are with you guys and know that I am thinking of you all. Love, Karen"
» Karen Joyce on June 25, 2013
"Dear Leanne and David, Nancy was a great neighbor and will be sorely missed. Our condolences. Nancy and Cecelia are probably having one heck of a conversation right about now! She made the best chocolate chip cookies in town. We will all miss her! Love, The Quinn Family Charlie, Beth, Maggie, Chas, Michael & Sean and families"
» Christine Quinn on June 26, 2013
"Hi Lee Anne & David, My deepest sympathies on the loss of your Mom. I loved Nancy and have very fond memories of her while growing up. She will be missed by many. All the best, Maggie"
» Maggie Quinn Hileman on July 1, 2013
"Dear Lee and David. Aunt Nancy will be truly missed. I talked to her regularly over the years and visited with her often. She was always a source of strength for me and she was an ardent supporter my music career. I will always be grateful for her presence in my life. She was such a positive force in the world and impacted so many lives with her good deeds. I will miss her very much! My heart and prayers are with you and your family! Much love to you all, Kathy"
» Kathleen Joyce-Grendahl on July 1, 2013
Sign the Guestbook
---