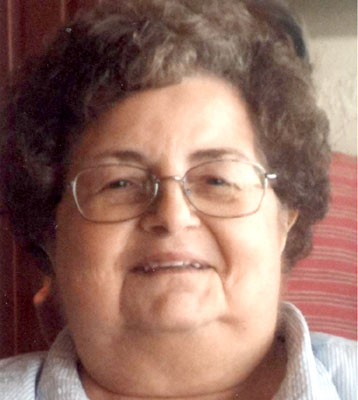 ELLA MAE SMITH
HUBBARD – Ella Mae Smith, 78, went to be with her Lord and Savior and healer on Friday morning, June 14, 2013, at St. Joseph Hospital.
She was born Sept. 1, 1934, in Hubbard Township at her aunt's house, a daughter of Carl and Eva L. Hanes Jagger, and was a lifelong area resident.
Mrs. Smith, a 1952 graduate of Hubbard High School, was Treasurer and Vice President of Christian School Books for 12 years, volunteered for Mahoning County Child Evangelism Fellowship as the treasurer and formerly worked for the Sharon Store.
Ella Mae was a member of the Chestnut Ridge Church of God and was an assistant to their Christian Education Department, doing miscellaneous things, and was a member of the former Evangelical Congregational Church of Hubbard. She was a Good News Club Teacher as well as teaching Junior Church at Calvary Temple.
Ella Mae enjoyed reading her bible, going to Christian concerts and women's conferences and doing circle word puzzles.
She leaves her husband, Paul V. Smith, whom she married Sept. 11, 1954; a son, Paul V. Smith II of Hubbard; a daughter, Dawn P. Smith of Hubbard; a brother, Donald Jagger of Iowa Park, Texas; and a sister, Jacqueline J. Roskie of Youngstown. She also leaves several nieces and nephews, a large extended family as well as her church family.
She was preceded in death by her parents; a brother, Carl Green; and a sister, Dorothy Price.
Memorial services will be held Saturday, June 29, 2013, at the Chestnut Ridge Church of God at 3 p.m. with Pastor Robert J. McFarland officiating.
There are no calling hours.
In lieu of flowers, memorial donations may be made to the Chestnut Ridge Church of God, 7215 Chestnut Ridge Road, Hubbard, OH 44425.
Arrangements are being handled by the Kelley-Robb-Cummins Funeral Home.
Please visit www.krcummins.com to view this obituary and to send condolences to the family.
Guestbook Entries
Sign the Guestbook
---