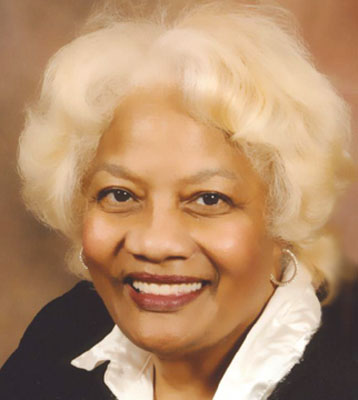 SANDRA INEZ BELL DAVIS
YOUNGSTOWN – Services will be at 10 a.m. Saturday at the McGuffey Road Church of Christ for Sandra Inez Bell Davis, 64, who departed this life June 17, at her home.
Sandra was born June 10, 1949, in Youngstown, a daughter of Lester and Mary Kathleen Williams Bell Sr.
She was 1967 graduate of East High School and a 1976 graduate of Kent State University. She had been employed by the Trumbull County Sheriff's Department from 1977 to 1981 and by the Warren Police Department from 1981 until she retired in 1996.
She was a member of the McGuffey Road Church of Christ, was a member of Eastern Stars and was Past Worthy Matron of Mizaph Chapter No. 66. She was a 4th Degree Black Belt Martial Arts, winning many trophies and she loved crocheting and gardening.
She leaves to cherish her memory, her father, Lester (Ann) Bell Sr. of Cleveland; her mother, Mary Kathleen Sanderson of Youngstown; her daughter, Kathy Ann Riley of Youngstown; sisters, including her twin, Saundra (Jimmie) Bell of Liberty, Pastor Alice Bell Parkman of Youngstown, Tonya Tell of Cleveland, Gwendolyn Stewart of Euclid, and Dee Dee Davis of Arizona; brothers, Lester B. Bell Jr. of Youngstown, Pastor Carl J. (Yvonne) Irving of Tennessee, and Julius and Steven Bell of Cleveland; seven granddaughters, Keyatta Riley, Domonique' Lemon, Michelle and Khadijah Rodgers, KaSaundra, KaSandra and KyTyah Bankston; two grandsons, Dezmond and Michael Riley; four great-grandchildren, one whom she was rearing, Amijah Clinkscale Brown; a special friend Richard Breckenridge of Lakewood; and a host of nieces, nephews and other relatives and friends.
She was preceded in death by her grandmother, who reared her, Daisy Mae Ruffin Irving; grandfathers, Theodore Irving and Ira Williams; and her stepfather, Charles Sanderson; and a cousin, Inez Bunkley.
Friends may call today from 6 to 8 p.m. at the L.E. Black, Phillips and Holden Funeral Home, where the Eastern Stars will have memorial services at 7:30 p.m. and on Saturday from 9 to 10 a.m. at the church.
Arrangements entrusted to the L.E. Black, Phillips and Holden Funeral Home.
Guestbook Entries
"I am sorry for your loss. I know that times like this are hard, I hope the scripture at John 5:28 brings you some comfort."
» Sharon on June 21, 2013
"Our Prayers are with you all during this difficult time. God continue to strengthen and keep you in His loving arms. "
» Dandridge Family on June 21, 2013
Gates B/B shop
"We've lost a true blessed friend and she left good and happy memories. God knew best and our hearts ache with you and pray for your comfort."
» Carolyn & Gates on June 21, 2013
"Auntie,I will miss your warm and wonderful smile. I will also miss your straight talk,no chaser attitude. Your loving spirit is one I will always cherish-I love you,always!"
» Tunisha on June 22, 2013
"God's peace and mercy be with the family. You are in my prayers."
» Bobbe Cummings-Reynolds on June 22, 2013
Sign the Guestbook
---