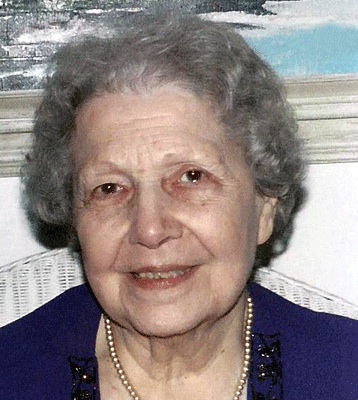 MAXINE MARION DONALD
MASURY – Mrs. Maxine Marion Donald, 93, formerly of Juniper Court, Hermitage, Pa. and Boardman, passed away peacefully on Wednesday, June 19, 2013, at 8:20 a.m. at O'Brien Memorial Health Care Center in Masury after an extended illness.
Mrs. Donald was born in Topeka, Kan., on March 5, 1920, the daughter of the late Virgil and Ardice M. (Elder) (Hoagland) Ferguson.
She had worked as a nurse at Kansas City Research Clinic for many years. She had previously worked running a doctor's office, also in Kansas City, Kan., before moving to Boardman.
She loved writing in her journal and was artistic and enjoyed doing sketches. Maxine was a happy, vivacious person who had a delightful sense of humor. While living in Boardman, she was active in the Seventh Day Adventist Church.
She was the widow of Galen Skilling Donald, who died on Feb. 23, 1945, in Iwo Jima, Japan, while serving in the U.S. Marine Corps during World War II.
She is survived by her son, Galen J. Donald and his wife, Mary Dee (Wellman) Donald of Hermitage, Pa. Also surviving is her nephew, Glenn "Joe" Yotti and his wife, Maria, of Staunton, Va.
Besides her parents and her husband, she was preceded in death by her sister, Virginia Yotti; and her stepfather, George Hoagland.
Friends are invited to call Sunday, June 23, 2013, from 4 to 5 p.m. at the Harold W. Stevenson Funeral Home, 264 East State St., Sharon, PA 16146.
There will be a funeral service at the Harold W. Stevenson Funeral Home, Sharon, at 5 p.m. on Sunday, June 23, with the Rev. Larry Haynes of Grace Chapel officiating.
Burial will take place on Monday beside her husband at Baltimore National Cemetery Baltimore.
Please visit stevensonfuneralhome.net to express condolences to the family.
Guestbook Entries
"I didn't know Mrs. Donald personally, but she seemed to be such a sweet person. I hope the scripture at John 5:28 brings you some comfort."
» Sharon on June 21, 2013
Elder - Evergreen SDA
"I've known Maxie for many years since I was a kid. She was a very kind, gentle and caring person whom was always active for many years in our church. I recall the many church community rummage sales that she always lead and through her unselfish personal service to others. She will be fondly remembered and missed and rests in Jesus until that great resurrection day and grand reunion. To Galen and family; it was an honor to know Maxine, we are here for you now and in the future. May God keep you in His care. "
» Mark Sitch on June 21, 2013
Sign the Guestbook
---