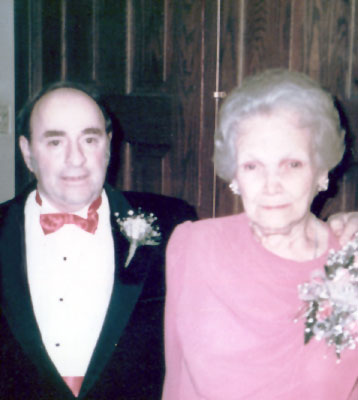 ROCCO S. BUTTO
"Together Again"
NILES – Rocco S. Butto, 90, died at 7:15 p.m. Thursday June 13, 2013, at Shepherd of the Valley Lutheran Home in Niles.
He was born Aug. 7, 1922, in Niles, the son of Phillip and Marianna Caizza Butto Sr.
Rocco worked for 20 years as a laborer at Ohio Galvanizing and for 30 years at Ohio Corrugating before retiring in 1987. He was a member of Our Lady of Mount Carmel Parish in Niles, church usher, and festival volunteer. He also helped build Our Lady of Mount Carmel Rhodes Avenue School and was a member of Eastland Athletic Club and San Fellipe Neri Lodge.
He enjoyed playing old Italian card games with his son, bocce, checkers, baseball, avid New York Yankees and Niles McKinley Red Dragon fan.
His wife, Esther Newton Butto, whom he married Feb. 26, 1952, died Feb. 9, 2005.
He will be deeply missed by two sons, Joseph Butto and his wife, Pam of Niles and Anthony Butto, with whom he made his home; two grandchildren, Andrea Davis and her husband, Cory and Joshua Butto; one great-grandchild, Madalyn Pasek; several nieces and nephews; and great nieces and nephews.
He was preceded in death by two brothers, his twin Tinaro Butto and Philip T. Butto Jr.
Friends may call from 5 to 8 p.m. today at the Joseph Rossi and Sons Funeral Home in Niles, where the Mount Carmel Bereavement Ministry will conduct prayers at 7:30 p.m.
Services of Christian Burial will be held at 10 a.m. Tuesday at the Joseph Rossi and Sons Funeral Home in Niles with Father James Korda officiating.
Burial will be at Niles City Cemetery.
Friends may visit www.josephrossifuneralhome.com to view this obituary, sign the guest book, and to send e-mail condolences.
Arrangements are being handled by the Joseph Rossi and Sons Funeral Home in Niles.
Guestbook Entries
« Be the first to sign ROCCO S. BUTTO guestbook.
---