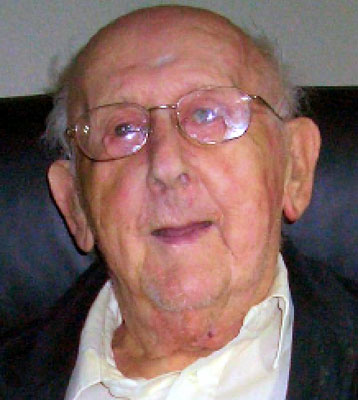 SANFORD BARTH
SAN DIEGO – Sanford Barth, 98, passed away peacefully in San Diego on June 8, with his family at his bedside. He was a loving husband, father, grandfather, uncle, and dear friend to many.
Sanford, affectionately called "Sandy," was born on Jan. 19, 1915, in Nikolsburg, Czechoslovakia and grew up in Zagosh, Poland.
He left Poland in 1933, to study in Rabbinical School at Frankfurt am Main with Dr. Jacob Hoffman. His mastery of languages included fluency in Hebrew, German, Polish, Yiddish, and English. Later in life he also learned Arabic and Filipino. He immigrated to the U.S. in 1937, and settled in Youngstown, where he started a grocery business with his uncle, Joe Barth. Sandy volunteered for the U.S. Army in 1942, when World War II broke out, and was selected to join the elite military intelligence unit at Camp Ritchie, Md.
Sandy was married to Vera, the love of his life, for 64 years. Vera attended Pitt University and became a teacher. Sandy and Vera raised two sons, Kenneth and Richard. Richard is Chief of Pediatric Radiology at Stanford University and Kenneth is an attorney, specializing in real estate law in San Diego. Sandy loved his family deeply and was tremendously proud of their accomplishments. Sandy and Vera moved to Palm Springs, Calif. in 1978, and ultimately settled in San Diego.
Sandy was extremely proud to be an American citizen, and was especially proud of his service in the U.S. Army. He was also a fervent supporter of Israel and a scholar of the works of Theodore Herzl, the founder of the Zionist movement. He was a designated pre-eminent speaker for the Zionist Organization of America and frequently lectured at synagogues in Ohio and Pennsylvania.
Sandy was buried at Hills of Eternity Cemetery in Colma, Calif. on June 11, 2013. His service to the U.S. Army was recognized with a military honor guard.
Sanford is survived by his wife, Vera; sons, Kenneth of San Diego and Richard and his wife, Lori, of Los Altos, Calif.; and grandchildren, Amy of New York and David of Los Altos.
In lieu of flowers, please consider a donation to your favorite charity in memory of Sanford Barth.
Guestbook Entries
"i am sorry for your loss! i believe i lived next door to sandy and vera on roslyn drive in youngstown. i remember her making him smoke on the front porch. and him trying to drive up the hill in winter, often ending up in our front yard!"
» Susan Smith on June 16, 2013
Sign the Guestbook
---