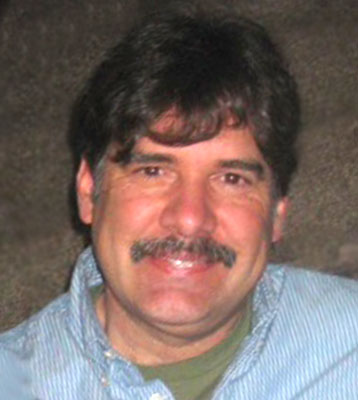 PAUL N. WARGACKI
CANFIELD – Services will be Wednesday at 11 a.m. at the Bethel Assembly of God Church in Austintown for Paul N. Wargacki, 52, who died early Saturday morning at St. Elizabeth Health Center in Youngstown after a short battle with cancer.
Paul was born Aug. 23, 1960, in Youngstown, the son of Frank and Stella (Terlecky) Wargacki.
He was a 1978 graduate of Canfield High School. He was a God-fearing man who always walked with Christ. Paul enjoyed spending time with his grandchildren, "Boog" and "Miss E," as he lovingly called them, motorcycle trips with his wife, Sunday breakfasts with Skip and Liz (and Josh when he was home), hiking at Mill Creek, Yellowstone, and Denali parks and fixing anything that needed fixing.
He had worked as a tool and die maker for Delphi Packard Electric Systems Plant No. 47 in Vienna Township for over 34 years until the time of his illness.
He is survived by his wife, the former Tammy Pyles, whom he married Sept. 11, 1982; his mother, Stella Wargacki of Canfield; a daughter, Stefania (Josh) Bauman of Canfield; a son, Jake (Kori) Wargacki of Perrysburg; a sister, Glenda (Rick) Culp of Canfield; a brother, David Wargacki of Canfield; and two grandchildren, Josiah and Eden Bauman.
He was preceded in death by his father, Frank Wargacki and a brother, Jim Wargacki.
Friends may call from 5 to 8 p.m. on Tuesday at the Higgins-Reardon Funeral Homes, Austintown Chapel.
The family has requested that material tributes take the form of donations to the Cystic Fibrosis Foundation, 5410 Transportation Blvd., Suite 5, Garfield Heights, OH 44125.
Please visit www.higgins-reardon.com to view this tribute and to send condolences.
Guestbook Entries
Old friends reaching out
"Tammy I just found this notice I am so so sorry for your loss. I would I've to talk to you. Your Sister in law from the past. rosellilley@gmail.com"
» Rose Rohrbaugh (pyles) Lilley on May 14, 2017
friend
"So sorry for your loss. tammy may God comfort you and your family."
» rita montgomery on June 16, 2013
"It was an honor to know Paul. Our son Joshua could not have asked for a better Father-In-Law. Just being around Paul you could see and feel the love that he had for his Family and Jesus Christ."We know for certain that we never lose the people we love, to death. They continue to participate in every act, thought and decision we make". Paul's love had left an imprint in our memories. We can only imagine what it would be like to see Jesus Face to Face and Paul had that experience the night Jesus called him home. Our thoughts and prayers are with all the Wargacki family."
» Bill and Rhonda Bauman on June 16, 2013
"Paul was one of the nicest & kindest person I have every known !!! He was a true friend . Through out High School & growing up , he was always there for me . If it wasn't for Paul I wouldn't be the godly man I am today !!! I remember when our house burnt down , Paul walked to his car & handed me his bible to replace the one I lost !! He was truly a godly man . See you in heaven one day brother !!!"
» Stephen Kowalsku on June 16, 2013
"Our thoughts and prayers are with the Wargacki Family. "
» Angel & Kenny Leathers on June 16, 2013
"My thoughts and prayers are with all of you."
» George pesta on June 16, 2013
"Paul,God speed and hope your new adventure is as great as this one has been.I don't like good bye's so I'll see ya when I see ya.god bless to your family and you. "
» Keith McMurray on June 18, 2013
Pastor
"We were heart broken to hear about Paul. You are all in our Prayers."
» David & Tammy Clark on June 19, 2013
"Paul,God speed and hope your new adventure is as great as this one has been.I don't like good bye's so I'll see ya when I see ya.god bless to your family and you. "
» Keith McMurray on June 18, 2013
Sign the Guestbook
---