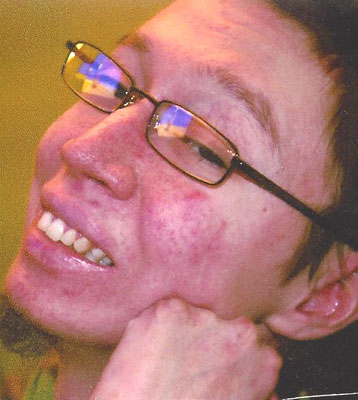 MICHAEL ALAN COVERT
COLUMBIANA – Michael Alan Covert, 30, passed away peacefully in his sleep late Friday evening at his home.
He was born on Sept. 30, 1982, in Youngstown, the son of Donald and Brenda (Ferguson) Covert. 
Michael was born with Epidermolysis Bullosa, a condition that he dealt with his entire life. He never let it slow him down, or stand in his way. He was diagnosed with Muscular Dystrophy later in life but continued to live life to its fullest. His perseverance was an inspiration to many, and he touched many lives. 
Michael graduated from Columbiana High School in 2001. He graduated with honors from Pittsburgh Technical Institute with a degree in Computer Systems Specialist Networking. He worked with the J. Lodge Corporation as a systems analyst.
He loved computers, video games, collecting cards and comic books, and going to the movies. He belonged to the Allen Masonic Lodge No. 276 F.&A.M. in Columbiana.
Michael leaves to cherish his memory, his parents, Donald and Brenda; sister, Briana Reyes, at home; his grandparents, Earl and Jane Corey of Columbiana, Sam and Sue Ferguson of Columbiana, and Robert and Carol Covert of Champion; aunts and uncles, Susan and Jim Quinlan of Youngstown, Cathy Bailey of Charleston, S.C., Nancy Mioni-Tala of Silver Springs, Md. and Paul Covert of Charleston; and cousins, Nicole Rosario, Stephanie Yerkey, Wayne Bailey, Brian Bailey, Brock Bailey, Ronald Covert, Carol Kulka, Becky Mioni, Jessica Perez, Bobby Covert and Stephanie Covert.
He was preceded in death by his paternal grandmother, Donna Covert and his uncle, Ron Covert.
Funeral services will be held at 11 a.m. on Tuesday, June 18, at the Seederly-Mong and Beck Funeral Home, 154 South Elm St. in Columbiana, with Mr. Clarence Mansfield officiating.
The family will receive friends from 7 to 9 p.m. on Monday, June 17, at the Seederly-Mong and Beck Funeral Home in Columbiana. They will also receive friends one hour prior to the service on Tuesday. 
In lieu of flowers, the family requests that donations may be made in memory of Michael to the MDA (Muscular Dystrophy Association), P.O. Box 78960, Phoenix, AZ 85062, or D.E.B.R.A. (Dystrophic Epidermolysis Bullosa Research Association) of America, 16 East 41st St., 3rd Floor, New York, NY 10017.
The family has entrusted the funeral arrangements for their loved one to the Seederly-Mong and Beck Funeral Home.
Family and friends are invited to visit www.seederly-mongandbeck.com to sign the guestbook or to leave private condolences. 
Guestbook Entries
"I am sorry to hear Michael has passed. Please know you have support from many friends, even when we can't be close to you. You all are in my prayers. God bless. "
» Patti DelBane Smith on June 16, 2013
Sign the Guestbook
---