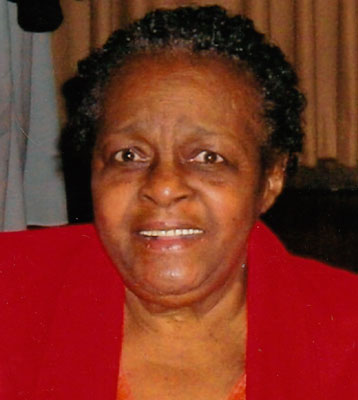 GLADYS LOUISE MONTGOMERY MARKS
YOUNGSTOWN – A funeral service will be held at 11 a.m. on Thursday at the Third Baptist Church for Mrs. Gladys Louise Montgomery Marks, 81, who departed this life on Thursday, June 13, 2013, at St. Elizabeth Health Center.
Mrs. Marks was born on Aug. 3, 1931, in Youngstown, a daughter of Oliver L. and Emma L. Randall Montgomery.
She was a nurse for 27 years with St. Elizabeth Health Center, retiring in 1986. She was a member of the church, former president of its Missionary Society, member of its Nurses Guild and the Adult Ensemble Choir. She was also a member of the American Nurses Assoc. and Ohio Nurses Assoc. and was recognized by Who's Who in America.
She leaves her husband, Jeff H. Marks, whom she married July 7, 1959; children, Tyrone McMullen of Nevada, Carole L. Marks of Youngstown and Erie (Jacqueline) Marks of Tamarac, Fla.; siblings, Oliver (Thelma) Montgomery of Verona, Pa., Robert and Richard Montgomery, both of Youngstown and Charles (Gwendolyn) Montgomery Sr. of Campbell; seven grandchildren, Andre Marks of Centreville, Va., whom she reared, Carolyn McMullen, Eric Hodges, Rene Northern, Brandon Sampeur, Joseph Coleman and Stepfon Marks.
She was preceded in death by her parents; three sisters, Phyllis Montgomery, Mary J. Gibson and Carole A. Montgomery; and a brother, Herman Montgomery.
Friends may call from 10 to 11 a.m. on Wednesday at the church.
Arrangements are being handled by the F.D. Mason Memorial Funeral Home.
Guestbook Entries
"I love your beautiful!"
» Rene Northern on June 16, 2013
"GRADY WAS WONDERFUL AND LOVING. SHE ALWAY HAD A SMILE GOD BE WITH THE FAMILY AT THIS DIFFCULT TIME. OUR PRAYERS ARE WITH YOU ALL. REST IN PEACE GLADYS THIRD BAPTIST CHURCH FAMILY."
» MR. & MRS. LYNCH on June 16, 2013
"May God bless you durring this sorrowful time of your life."
» Ted and Katie Fagan on June 16, 2013
"RIParadise God Mother. Raleigh, NC"
» Tracy Glenn and Family on June 17, 2013
"May God bless you all at this difficult time. Gladys was a very beautiful person."
» Chithea Summers-Robinson on June 18, 2013
Miss You
"Although, it has been over a year, I miss you Auntie. "
» Brenda Montgomery on July 14, 2014
Sign the Guestbook
---