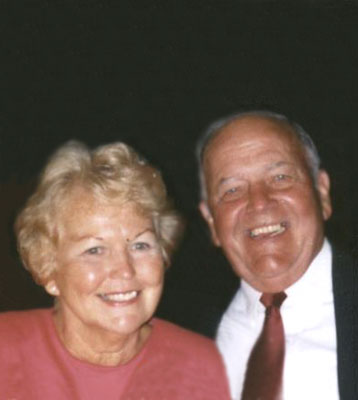 GENEVIEVE L. 'DUDIE' ALLSOPP
"Together Again"
BOARDMAN – There will be a funeral service at 2 p.m. Monday at the Fox Funeral Home for Genevieve L. "Dudie" Allsopp, 86, who passed away Thursday afternoon at Hospice House.
Genevieve was born April 6, 1927, in New Castle, Pa., a daughter of Paul B. and Zerita L. Moore McGuire, and had been a long time area resident.
She graduated from New Castle High School and was an artist and homemaker.
Her husband, Thomas C. Allsopp Sr., whom she married on Oct. 4, 1945, died on March 21, 2001, after 56 years of marriage.
She leaves to cherish her memory, a son, Thomas C. (Cheryl) Allsopp Jr. of Poland; two daughters, Cecilia Allsopp of Camp Verdi, Ariz. and Jayne (David) Farragher, with whom she made her home in Boardman; a sister, Patricia Riddle of Chicago; a brother, Charles McGuire of Florida; six grandchildren; and six great grandchildren.
Besides her parents and husband, Genevieve was preceded in death by her son, Paul Allsopp; and a sister, Donna McCarthy.
In lieu of flowers, her family requests that any monetary donations be made in Genevieve's name to Hospice House, 9803 Sharrott Road, Poland, OH 44514.
Friends and family may call an hour before the service at 1 p.m. Monday at the Fox Funeral Home, 4700 Market St.  Boardman, OH 44512.
Family and friends may visit www.foxfuneralhome.org to view this obituary and send condolences.
Guestbook Entries
Sign the Guestbook
---