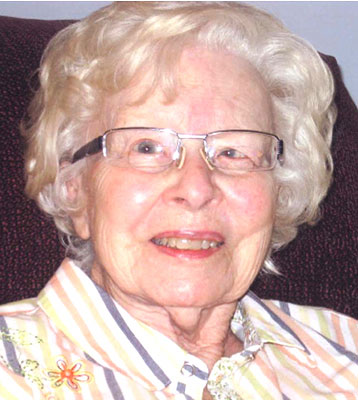 NEITA B. BURGER
YOUNGSTOWN – Neita B. Burger died peacefully at her home on June 12, 2013.
She was born Neita Mae Bletso on March 15, 1914, in New Bedford, Pa., the daughter of Robert and Adeline Bletso.
Neita was valedictorian of her Chaney High School, Youngstown, class of 1932. She attended Youngstown College but withdrew to work at Electrolux Sweeper and then Republic Steel to help pay for her brother's education at Ohio State University.
In 1952, she married Irving Burger.
Neita spent the rest of her career with Burger Travel Service until her retirement in 2008.
She was a member of the Butler Institute of American Art, where she served several terms on the Board of Directors. She was also a member of The Youngstown Club, The Youngstown Country Club and the First Presbyterian Church of Youngstown.
In addition to her family and friends, Neita loved the arts, her job, quilting, crocheting and needlework, and her garden. She could often be seen tending her flowers wearing her pearls. With her husband and daughter, she traveled worldwide and Neita was one of the first Americans to visit China when it opened to U.S. tourism in 1979.
She is survived by her daughter, Debra J. Burger; her grandpuppies, Mandy, Tucker and Marley; her nephew, William Long and family; and her niece, Nadine Brackenrich and family.
She was preceded in death by her husband, Irving; her parents; her siblings, Berne Bletso, Faith Rarick and Iris Long; and her beloved grandpuppy, Percy.
The family thanks her loving caregivers.
There are no services planned at this time. A celebration of her life will be held at a later date.
The family requests that material contributions be made to The Butler Institute of American Art or First Presbyterian Church of Youngstown.
Arrangements are by the Shriver-Allison-Courtley-Weller-King Funeral Home.
Guestbook Entries
Debra Burger
"Hello Debra, from my heart I know the love one shares with her mother. My mother Betty Jane (Bletso) Waite loved her first cousin Neita. She was always so happy when they talked. Each life is a Celebration of Life. Life on earth is where we grow in our Lord in the amazing Joy yet to be. Love, to you and grandpuppies too. Bethanne Keirnan"
» Bethanne on July 7, 2013
Sign the Guestbook
---