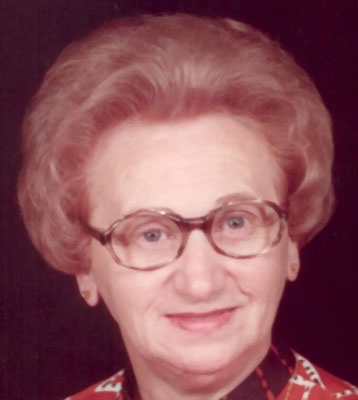 ANN TIRPACK
YOUNGSTOWN – Funeral services will be held Saturday at 10 a.m. at the Wasko Funeral Home and at 10:30 a.m. at St. Nicholas Byzantine Catholic Church, with Father David Shortt officiating, for Ann Tirpack, 98, who passed away Sunday afternoon.
Ann was born June 5, 1915, in Farrell, Pa., the daughter of Michael and Katerina Kishak Vansach.
In 1921, Ann traveled to Slovakia with her family, where she married John Y. Tirpack in 1934.
John served as part of the Slovakia Diplomatic Corps within the Slovak Republic Ministry of Foreign Affairs. She then spent time traveling with her husband throughout Europe until 1950. At that time, the Communist Regime took over Czechoslovakia and her, her husband and children immigrated to the United States, settling in Campbell.
Besides being an excellent homemaker, Ann retired as a manager of Fannie Farmer Candy Shop after 15 years of service.
Ann was a very active member of St. Nicholas Byzantine Catholic Church, the Byzantine Ladies' Association, the church choir, a piroghy worker, the St. Nicholas Senior Citizens Club, the Sacred Heart Society and the Legion of Mary.
For a number of years, she sang with the Youngstown Symphony Chorus.
Ann leaves to cherish her memory, her two sons, John M. (Ann) Tirpack of Beaver Creek and Boris J. (Retha) Tirpack of Enon; her daughter, Nadine M. (Glen) Kramer of Ashland; her grandchildren, Theresa Dorn, Karen Angelis, Kyle Tirpack, Robert Tirpack, Tiffany Spear, Leigh Yallech, Marla Carnicom and Glen Kramer; her 19 great-grandchildren, C.J., Matthew and Ben Dorn, Gabriella, Ariana and Natalia Angelis, Lacey, Scarlett, Jilian and Taylor Tirpack, Nicholas Yallech, Harrison Carnicom, Kerrie and Jacob Kramer, Cameron, Cody and Maya Tirpack and Max and Eli Spear; and her goddaughter, Viera Semanova-Tessmer.
Her husband, John Y. Tirpack, whom she married May 21, 1934, passed away May 9, 2006.
Besides her husband, John, Ann was preceded in death by her parents; her brothers, Ivan, Michael, and Nicholas Vansach; and her sister, Maria Seman.
The Tirpack family has entrusted their loved one to the care of the Wasko Funeral Home and will receive friends Friday from 4 to 7 p.m. at the funeral home, where a prayer service will be held at 4 p.m.
Visit www.waskofamily.com to view this obituary and send the Tirpack family condolences.
Guestbook Entries
Tirpack Family
"My Sincere Sympathy on the loss of your Mom."
» Norma Piccolo DeMain on June 14, 2013
Sign the Guestbook
---