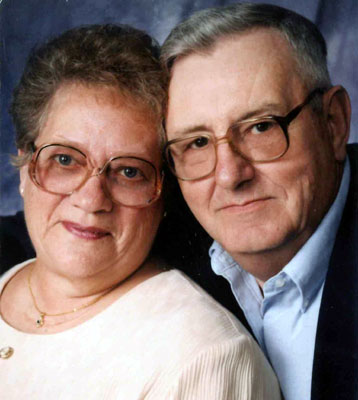 JOHN 'PERRY' BOOK SR
"Together Again"
NORTH JACKSON – John "Perry" Book Sr., 82, passed away June 2, 2013, at Vista Care Center in Boardman.
Born Sept. 5, 1930, he was the son of John Alva and Viola Catherine (Lear) Book.
John was a lifelong resident of Jackson Township. He was a graduate of Jackson Milton High School, class 1950.
John married Nancy M. Martin on Nov. 28, 1968, and together they shared nine wonderful children.
John worked for J.C. McNicholas Trucking as a mechanic, retiring in 1982. He then worked for Jackson Township as a road supervisor, retiring from there in 1994. He was a past member of the Moose Lodge in Niles, the KOP Lodge in North Jackson and served as Fire Chief for Jackson Township during 1970 to the 1980s.
Survivors include his children, John Perry (Kim) Book Jr. of North Carolina, Cheri (John) Book Anstead of North Jackson, Keith (Terri) Book of Greenford, Cindy (Marty Barringer) Book of Salem, Alva Book of Youngstown, Ronald McDougal, of Florida, Donald (Chris) McDougal of North Jackson, Debbie Marshall of Damascus and Rob (John Sowers) McDougal of Columbus; 20 grandchildren; and 17 great-grandchildren.
He was preceded in death by his parents; stepmother, Mildred Greier Book; wife, Nancy; sisters, Ola Ann DeZee and Marcia Cooper; brothers, Dick and Jerry Greier; grandchildren, Tomlynn Marie and Johnnie Marie Book; and son-in-law, Melvin Marshall.
Visitation will be held Thursday from 4 to 6 p.m. with a memorial service starting at 6 p.m. at the Lane Family Funeral Homes, Mineral Ridge Chapel.
A private interment will take place at North Jackson Cemetery.
Family and friends may visit www.lanefuneralhomes.com to view this obituary and to send condolences.
Guestbook Entries
"Deepest Sympathies Cheri and family in your loss."
» Jackie & John Orosz on June 5, 2013
"My deepest sympathies to Keith and Terri Book and all the Book Family"
» Linda Griswold on June 6, 2013
Sign the Guestbook
---