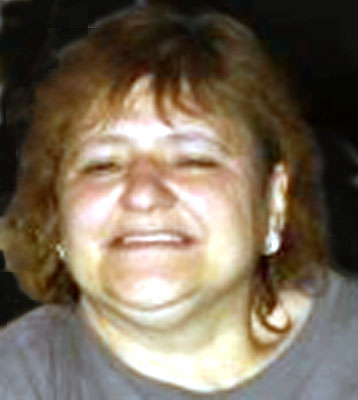 LINDA J. BUDROVIC
POLAND – Linda J. Budrovic, 58, passed on Monday, July 22, 2013, after her second long battle with cancer. Linda was surrounded by her loving family.
Linda was born on Aug. 24, 1954, in Youngstown, the daughter of Nicholas and Mary B. Miller Cabuno.
Linda devoted her life to her three sons and to her husband, Steve, with whom she had 41 wonderful years of marriage.
Beloved memories of Linda will be cherished by her loving family, her husband, Steve; her three sons, Stephen N. (Mistee) Budrovic, Bryan K. (Nicol) Budrovici and Mark E. (Kelly) Budrovic; her six grandchildren, Ashley Hrosar, Taylor Budrovic, Dylan Budrovic, Kaylynn Budrovic, Giana Budrovici and Roman Budrovici; her one great-grandchild, Andromeda; and her four siblings, Nancy Skopic, Nick Cabuno, Elizabeth King and Kim Fassos.
Linda was preceded by her mother, Mary B. Cabuno; her stepmother, Carol Cabuno; and her father-in-law and mother-in-law, Stephen R. and Julia Budrovic.
A memorial Mass will be held on Friday, July 26, 2013, at 11 a.m. at Our Lady of the Lakes/St. James Catholic Church in North Jackson.
The family requests that material tributes may be made in memory of Linda to the Hospice of the Valley Hospice House, 9803 Sharrott Road, Poland, OH 44514.
Arrangements for Linda were entrusted to the Borowski Funeral Service and Oak Meadow Cremation Services.
Guestbook Entries
Grandaughter
"I love you grandma. I will always miss you. I hope to see you again one day."
» Samantha Baker on April 3, 2016
"May you have eternal peace with your King of Kings. You we always be in our hearts and prayers. We Love You, Mom! xoxo Bryan, Nikki, Gia and Roman"
» The Budrovici Family on July 25, 2013
"Nick we are so sorry for your loss ,are thoughts and prayers are with you"
» internet sweepstakes on July 25, 2013
Cousin
"Stevie and family, Linda was one of the nicest people I remember ever having met in my lifetime. I am very sorry for your loss. May she rest, now...and know that you are in my prayers. Cousin Germaine Santon "
» Germaine Santon on July 27, 2013
Aunt & cousin
"Steve and family, we are so sad to hear of your loss. Your family is in our prayers. Aunt Geri and cousin Sandy"
» Aunt Geri & Cousin Sandy on July 27, 2013
Son
"You will be sadly missed by all of us I'm sorry I didn't get to say goodbye I love you your my eyes of an angel now watching over all 4 of us boys and our family I Love you RIP Mom Love Big Steve "
» Stephen Baker on August 3, 2013
"Nancy and family - I am sorry to hear of the passing of Linda. I never knew her, but reading about her and the comments makes me sure wish I did. Peace to all of you. - Ray Zographos "
» Ray Zographos on August 6, 2013
"Dear family, Steve and boys, I am "extremely" sorry to learn of Lindas passing! It's heartwrenching to look up an old friend on here only to find she is gone!! I am sooo sorry! I will forever carry many, many memories with Linda. Rest in peace sweet girl!! Teri"
» Teri (Everly) Sevi on January 27, 2014
Sign the Guestbook
---