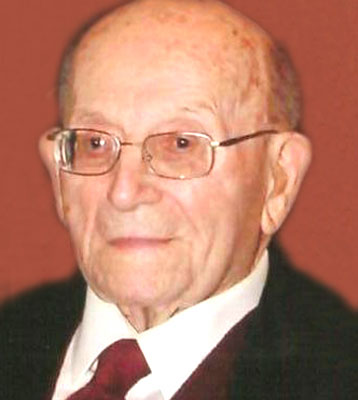 HAROLD L. MILLIGAN
STRUTHERS – Harold L. Milligan, 102, died early Wednesday morning, July 24, 2013, at St. Elizabeth Health Center.
Mr. Milligan was born Jan. 15, 1911, in Lowellville, a son of Arthur and Martha Sloan Milligan, and has been a resident of Struthers since the age of eight.
A 1929 graduate of Struthers High School, Mr. Milligan completed two years of study at The Ohio State University and attended Youngstown College. Harold was a partner at Milligan Dairy for 38 years, running the plant and making deliveries, until it was sold in 1960. He then worked for Youngstown Sheet & Tube in research for 12 years, retiring in 1975.
In 1945, Harold became a member of the Struthers Board of Education, serving until 1952 when he resigned to become Mayor of Struthers. Mayor Milligan served six consecutive terms from 1952 through 1964. He served as president of the Ohio Municipal League in 1961 and its vice president and chairman of its Legislative Committee in 1959 and 1960, and he was also a member of the National Municipal League.
Harold served as past president of both the Struthers Business Men's Association and the Greater Youngstown Crime Clinic, was a member of the Struthers Boosters, the St. Nick's Senior Citizens, and the AARP 3105, where he served as president. He was also a member of the Poland F.&A.M. No. 766 and 32 degree Mason of the Scottish Rite, and a member of the Aut Mori Grotto.
In 1925, at the age of 14, Harold became the first Eagle Scout in Struthers. He later served as Scout Master of Troop 16 for many years and was a member of the Executive Committee of the Mahoning Valley Boy Scouts.
In his spare time, he enjoyed planting his annual garden, starting everything from seed. He was a member of the Youngstown Men's Garden Club and served as past president of the club.
Harold was a lifelong member of the former Struthers Presbyterian Church, now known as the Struthers Parkside Church, where he was an elder and assisted with the Fireside Sunday School Class.
His wife of 76 years, the former Margaret Anderson, whom he married Sept. 4, 1931, died Sept. 16, 2007.
He is survived by a daughter, Rebecca Milligan of Columbia, S.C.; son, Harold (Linda) Milligan Jr. of Struthers; five grandchildren, Jennifer Milligan, Amy Moran, Shannan Riggs, Scott Morgan, and Mandi Angelo; and eight great-grandchildren.
In addition to his parents and wife, he was preceded in death by a daughter, Judith Milligan; sister, Jean Milligan; and his dear friend, Nancy Creed.
Funeral services will be held Friday at 5:30 p.m. at the Davidson-Becker Funeral Home in Struthers. Interment will be at Poland Riverside Cemetery.
Family and friends will be received Friday from 2:30 to 5:15 p.m. at the funeral home, prior to the service.
Memorial contributions may be made in Mr. Milligan's name to the Struthers Parkside Church, 110 Poland Ave., Struthers, OH 44471.
Please visit www.beckerobits.com to send condolences.
Guestbook Entries
"My condolences to the Milligan family. You are in my thoughts and prayers during this difficult time. I've had the pleasure to talk with Mr. Milligan on several occasions while designing the mural that used to be downtown Struthers. His lessons on the rich history of our city were insightful and very valuable. He was a delightful man and will be missed."
» Rachell Joy on July 25, 2013
"Condolences and prayers from us are sent to all of you and also to say how much he will be remembered for all he has done and the impact he had on others!!! All will miss him, (especially the city of Struthers!!) God blessed you all with having him for all those tears!! Obviously for many, many reasons! Sincerely, Teri & Ken (bob)"
» Teri sevi, & Ken Riley on July 25, 2013
"Condolences and prayers from us are sent to all of you and also to say how much he will be remembered for all he has done and the impact he had on others!!! All will miss him, (especially the city of Struthers!!) God blessed you all with having him for all those tears!! Obviously for many, many reasons! Sincerely, Teri & Ken (bob)"
» Teri sevi, & Ken Riley on July 25, 2013
Sign the Guestbook
---