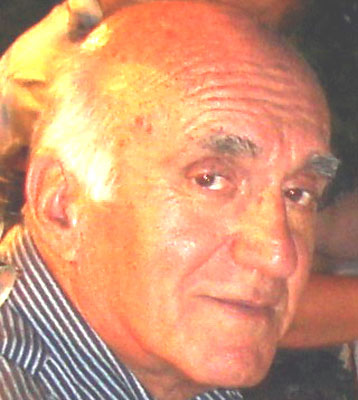 GEORGE P. ZAIRIS
CAMPBELL – Funeral services will be held Friday at 11 a.m. at the Archangel Michael Greek Orthodox Church, with George's nephew, his Eminence Metropolitan Panteleimon of Antinoes and Fr. Steve Denas officiating, for George P. Zairis, 82, who passed away Tuesday evening.
George was born, Feb. 10, 1931, in Kalymnos, Greece, the son of Pantelis and Themelina Patelis Zairis.
Before coming to the Campbell area in 1957, George served as a Merchant Marine and in the Greek Army as a member of the Special Forces for three years in Greece.
George was a furniture maker in Greece, a coal miner in Belgium and later retired as a Bridge Painter and carpenter in 1979.
He was a member of the Archangel Michael Greek Orthodox Church, where he also served on the Parish Council. George was the President of the Kalymnian Society.
George enjoyed making wine, bread and was an avid gardener.
He leaves to cherish his memory, his wife, the former Linda K. LaMarra, whom he married in 1989; a son, Pantelis (Anthie) Zairis of Maryland; and his two grandsons, Yiorgo and Panayioti Zairis.
He was preceded in death by his parents; his first wife, the former Nomiki Lampadarios, who passed away Sept. 11, 1984; two brothers, Ioannis and Sakelarios; and a sister, Kaloiopi Lampadarios.
The Zairis family has entrusted their loved one to the care of the Wasko Funeral Home and will receive friends on Friday morning from 9 to 11 a.m. at the Archangel Michael Greek Orthodox Church.
Visit www.waskofamily.com to view this obituary and to send the Zairis family condolences.
Guestbook Entries
"We we were sadden to hear the news of the passing of George. We are unable to be there for the services. Our heart and thoughts are with all of you at this sad time."
» Peter Angie Koulianos on July 25, 2013
"Our thoughts and prayers are with you. He will be missed."
» Chris & Irene Kotsatos on July 25, 2013
Sign the Guestbook
---