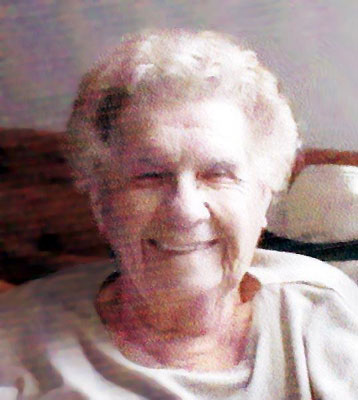 AGNES M. KELBEL
YOUNGSTOWN – Agnes M. Kelbel, 87, of the city's westside, passed away Wednesday morning, July 24, 2013, at Camelot Arms.
Agnes was born June 29, 1926, in Youngstown, a daughter of the late George and Josephine Potter Yakimoff, and was a lifelong area resident.
Agnes was a graduate of Chaney High School, and dedicated her adult life to raising and caring for her family. Mrs. Kelbel was a wonderful homemaker, and an excellent cook and baker. She loved her family dearly and enjoyed the time she spent with them.
Agnes was a member of Our Lady of Sorrows Parish, Holy Name of Jesus Church in Youngstown.
Mrs. Kelbel's husband, Martin J. Kelbel, whom she married Oct. 26, 1946, passed away May 30, 2011.
She leaves two children, Nancy (John) Pochiro of Chandler, Ariz. and Marty (Betty) Kelbel of North Lima; a brother, Paul Kelbel of Youngstown; a grandson, Thomas (Heather) Fitzwilliams; a great-grandson, Zack Fitzwilliams; a sister, Viola Puskas of Youngstown; and many nieces and nephews.
Agnes will be truly and sadly missed by all who knew and loved her.
Besides her husband, two brothers, Boris and Alex Yakimoff, are deceased.
Family and friends may call from 5 to 7 p.m., on Friday, July 26, at Kinnick Funeral Home, 477 N. Meridian Road, Youngstown.
Funeral services will begin on Saturday at 8:30 a.m. at the funeral home, and continue at 9 a.m. at Holy Name of Jesus Church, 613 N. Lakeview Ave.
Interment will follow at Calvary Cemetery in Youngstown, where Agnes will be laid to rest next to her husband.
Visit kinnickfuneralhome.com to view this obituary and to send condolences online to Agnes' family.
Guestbook Entries
MR.
"Paul, please accept my sincere sympathy for your loss. Greg"
» GREG MARSTELLER on July 25, 2013
Sign the Guestbook
---