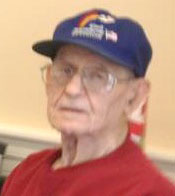 JOSEPH POPIO
GIRARD – Joseph Popio, 96, passed away July 17, 2013, Wednesday evening, at St. Elizabeth Boardman Health Center.
Joseph was born June 10, 1917, in Youngstown, the son of Italian immigrant parents Anthony and Madeline (Rondinelli) Popio.
Joe graduated from East High School in 1937. He served in the U.S. Army during World War II in the 42nd Rainbow Division. He later worked for General Fire Proofing as an inspector, retiring in 1980 after 33 years. 
Joe was a member of St. Rose Catholic Church in Girard and played bocce for the Girard Bocce League well into his 80s. He was an avid sports fan and enjoyed watching his favorite baseball team, the New York Yankees. Throughout the years, Joe always enjoyed spending time with the extended Rondinelli, Popio and Mendozzi families and attending the annual Rainbow Division reunions.
Joe is survived by his wife of 60 years, Norma (Mendozzi) Popio, whom he married Aug. 2, 1952; two daughters, Madalyn (Mike) Petro of Girard and June Popio of Pittsburgh; one sister, Antonette (Gene) Calcagni of Poland, Ohio; and many nieces, nephews, great-nieces and great-nephews whom he loved.
He was preceded in death by his parents; a son, Tom Popio; three sisters, Philomena Cardarelli, Isabel Tamburrini, and Mary Pearce; and two brothers, Vincent Popio and John Popio.
Joseph's family will receive family and friends Monday morning, July 22, 2013, from 10 to 11 a.m. at St. Rose Church, where there will be a funeral Mass celebrated at 11 a.m.
Special thanks to the staff at the Woodlands Assisted Living for their love and care.
In lieu of flowers, donations can be made to the Michael J. Fox Foundation for Parkinson's Research or the Rescue Mission of Mahoning Valley.
Interment will be at Calvary Cemetery.
Please visit mcclurkinfuneralhome.com to pay your condolences online.
Arrangements by the McClurkin Funeral Home in Girard.
Guestbook Entries
"Uncle Joe was a special man. I will never forget how he & Aunt Norma always made Bill & myself feel as one of their own. They always moved over or saved us a spot whenever there was a need. He & Bill would always talk about the good old days & share his war stories. Now they can talk again along with Tom and many of our other loved ones. Rest in peace Uncle Joe."
» Elaine Pearce on July 21, 2013
Sign the Guestbook
---