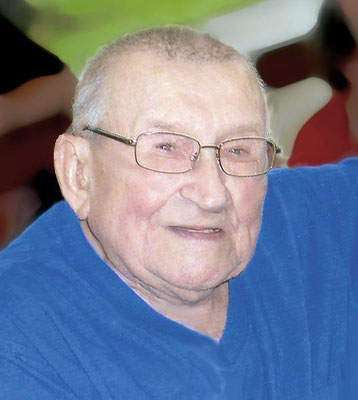 WALTER ZEBEL
YOUNGSTOWN – Walter Zebel, 88, of the city's west side, passed away peacefully Monday morning, July 15, 2013, at St. Elizabeth Health Center in Youngstown, with his family by his side.
Walter was born Nov. 7, 1924, in Slavjansk, Donetsk Oblast, Ukraine, a son of the late Alex and Maria Zdebel, came to America in 1949 and to Youngstown in 1951.
Mr. Zebel worked for Youngstown Sheet & Tube / LTV, at the Brier Hill Works for over 30 years, and retired from the mill as a maintenance foreman.
He was a member of Sts. Peter & Paul Ukrainian Orthodox Church in Youngstown, where he served on the board of trustees, was the sexton of the church cemetery, and was a member of the choir. Walter was also very active in the operation of the All Saints Camp in Emlenton, Pa. for many years.
Walter was very proud of his Ukrainian heritage, enjoyed fishing, and enjoyed being a handyman, using his skills to repair many things. He especially cherished the time he spent with his family.
Walter's beloved wife of nearly 65 years, Helen Shirostan Zebel, whom he married Aug. 19, 1947, passed away June 26, 2012.
Mr. Zebel leaves three daughters, Katherine Zebel of Youngstown, Anne (Very Rev. Fr. John) Haluszczak of Pittsburgh, and Mary Zebel of Youngstown; three grandchildren, Kira (Eric) Senedak of Pittsburgh, Nathan Haluszczak of Pittsburgh, and Lara Haluszczak of Harrisburg, Pa.; a great-grandson, James; and an "adopted" daughter, Denise Pavlik of Struthers.
Walter will be truly missed by all who loved him.
Family and friends may call from 5 to 8 p.m., Thursday, July 18, at Kinnick Funeral Home, 477 N. Meridian Road, Youngstown, where a prayer service will take place at 7:30 p.m.
Funeral services will begin at 9:15 a.m. on Friday at the funeral home, and will continue at 10 a.m. at Sts. Peter & Paul Ukrainian Orthodox Church, 1025 N. Belle Vista Ave., Youngstown.
Interment will follow at the parish cemetery, where Walter will be laid to rest next to his dear wife, Helen.
"Vichnaya Pamyat!"
Please visit kinnickfuneralhome.com to view this obituary and to send condolences online to Walter's family.
Guestbook Entries
joe damore wife
"sorry to hear about your lost we don't get the paper and i just learned how to use the computer to my advantage. I didn't realize your mother passed away a few years ago I'm really sorry for the lack of communication. so sorry carol damore jmes"
» carol damore on July 17, 2013
"I am so truly sorry for your loss. My thoughts and prayers are with you and your family. Love, Vicky and family"
» Vicky Reppy on July 17, 2013
"Dear Kathy and family, Please accept my sincere sympathy for your loss. Your dad is already fixing things in heaven. May he rest in peace. How lucky both your parents were to have such faithful and helpful daughters. God bless you all and send angels to comfort you this difficult time. "
» Joe DiLoreto on July 17, 2013
"Dear Kathy and family, Please accept my sincere sympathy for your loss. Your dad is already fixing things in heaven. May he rest in peace. How lucky both your parents were to have such faithful and helpful daughters. God bless you all and send angels to comfort you this difficult time. "
» Joe DiLoreto on July 17, 2013
Sign the Guestbook
---