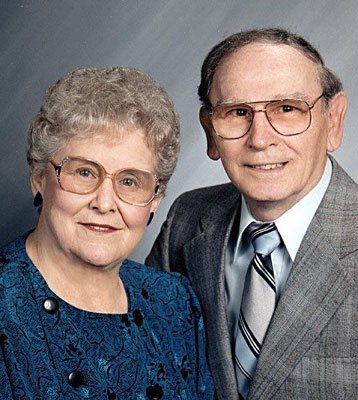 PAULINE M. SRNEC
"Together Again"
YOUNGSTOWN – Pauline M. Srnec, 85, of the city's west side, passed away late Saturday morning, July 13, 2013, at Select Specialty Hospital in Youngstown.
Pauline was born June 9, 1928, in Youngstown, a daughter of the late Joseph and Veronica Smopko Zifchak, and was a lifelong area resident.
She was a homemaker who dedicated her life to raising and caring for her family. She loved animals, enjoyed cooking and bingo, and cherished the time her and her family were together.
Mrs. Srnec was a member of Our Lady of Sorrows Parish, Holy Name of Jesus Church in Youngstown.
Pauline's husband, Thomas J. Srnec, whom she married Aug. 9 , 1947, passed away Sept. 28, 1999.
Mrs. Srnec leaves her son, Thomas J. Jr. (Joan) Srnec of Canfield; a granddaughter, Jolene M. (Joseph) Nassief of Boardman; and a brother, John (Jean) Zifchak of Struthers.
Besides her husband, she was preceded in death by three brothers, Joseph, Martin, and Andrew Zifchak; and three sisters, Ann Tofil, Margaret Kuboff, and Agnes Tatar.
A Mass of Christian Burial took place at Holy Name of Jesus Church on Tuesday.
Committal services were at Calvary Cemetery in Youngstown, where Pauline was laid to rest next to her beloved husband.
Arrangements were entrusted to Kinnick Funeral Home, 477 N. Meridian Road, Youngstown.
Visit kinnickfuneralhome.com to view this obituary and send condolences online to the Pauline's family.
Guestbook Entries
« Be the first to sign PAULINE M. SRNEC guestbook.
---