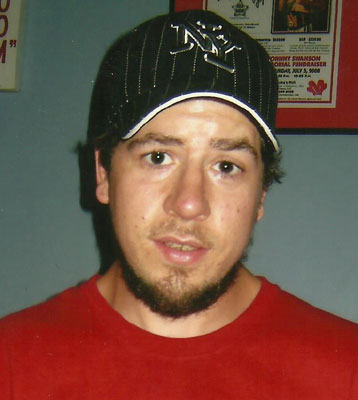 JEFFREY J. SWANSON
AUSTINTOWN – Jeffrey J. Swanson, 35, passed away Monday, July 15, 2013.
Born July 12, 1978, in Youngstown, he was the son of Kenneth C. and Patricia A. (Modarelli) Swanson. 
Jeff lived most of his life in Canfield and had worked for various restaurants and establishments. During his younger years, he played little league baseball, soccer, and wrestling. He enjoyed AWANA club, and was a favored newspaper carrier.
Jeffrey battled with Bipolar disease for most of his life, saddened by those who lacked knowledge and understanding of his illness, he turned to music and animals for comfort and solace.
He was preceded in death by his brother, John; grandmother, Patricia (Shon) Modarelli; grandfather, Richard Swanson; and companion, Fraggle.
Besides his parents, survivors include his brothers, Kenneth "KC" C. (Andrea) Swanson and daughter Simone of Chicago, Christopher (Kim) Swanson and children, Andrew, Johnny, and Lily of Struthers, Mark (Kylee) Swanson of Struthers; brother, John's son Logan J. Swanson (O Donnell) of Benton, Ark.; grandfather, Joseph Modarelli and Sally Swanson, both of Youngstown; and companions, Peanut, Bam, Pebbles, and Bitty.
Friends will be received at the Lane Family Funeral Home, Austintown Chapel on Friday, July 19, 2013, from 5 to 7 p.m., where a celebration of Jeff's life will begin at 7 p.m.
Arrangements have been entrusted to the Lane Family Funeral Home, Austintown Chapel.
Family and friends may visit www.lanefuneralhomes.com to send condolences.
Guestbook Entries
"From the time I knew him, he was a good kid...he'd always ask how my cats were doing, and was proud of his cats, he loved his animals. RIP my friend."
» bn40400 on July 17, 2013
Sign the Guestbook
---