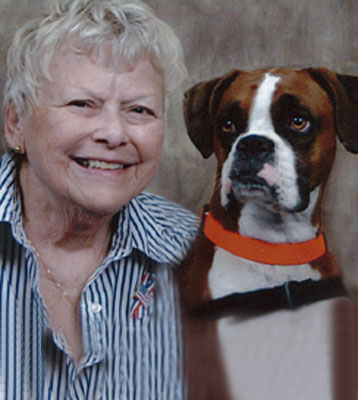 JANET MARILYN KLINKE COCKMAN
SAN ANTONIO – Janet Marilyn Klinke Cockman was born in Youngstown, on March 21, 1931. She was a loving wife, mother and grandmother.
On July 14, 2013, surrounded by her children, she was called to the Lord.
Janet was a wonderful person who brought a smile to everyone who knew her. Her true loves in her life were her children, grandchildren, her husband and her service dog, Lexi.
Janet and Lexi could often be seen walking around Air Force Village, particularly in the health care wing, where they brought joy to the patients and the staff. She particularly cared for stray cats in her area and often time made sure they received proper care.
Janet was married to Lt. Colonel Frederick L. Cockman and together with their children, traveled to many countries while Fred was in the military. She embraced being a military wife and made a "home" no matter where they were stationed.
Janet was the daughter of Dr. Paul and Leona Klinke from Poland.
Janet was preceded in death by her husband, Fred Cockman; her parents, Dr. Paul and Leona Klinke; her brother, Jack Klinke; and her niece, Peggy Klinke.
She is survived by her children, Nan Frechette and Rick Cockman and his wife, Dorina, and Cindi Anderson and her husband, Buddy; and her grandchildren, Kimberly Budde and her husband, Brent Budde and their children, Kyle and Kathryn Budde, Travis Cockman, Elias Vogt, Laura Vogt, Rebecca Fitch and her husband, Phillip and their children, Ellie Roosa and Joshua Fitch.
In lieu of flowers, memorial contributions can be made to the Hospitality Apartment, P.O. Box 25213, Houston, TX 77265-5213 or American Diabetes Association, P.O. Box 11454, Alexandria, VA 22312 or Lupus Foundation of America, P.O. Box 418629, Boston, MA 02241-8629.
At the request of Janet, there will not be any funeral services.
Interment will be at Fort Sam Houston National Cemetery.
The family appreciates all thoughts and prayers.
Guestbook Entries
"My thoughts and prayers go out to Janet's family. As the youngest first cousin, my memories of Janet, the oldest first cousin, are not numerous. We talked a month or so before she died and she was full of vim and vigor (or at least the best she could with the oxygen tank). She talked of wanting to be with Fred and Lexi. God heard her message and has reunited her with those she loved and lost. Nan, Rick, and Cindy, my prayers are also for you and your families. God Bless You."
» Beverly Wilson on July 18, 2013
Sign the Guestbook
---