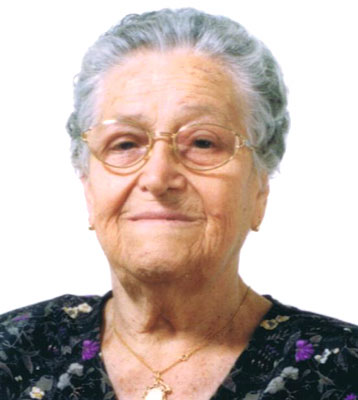 GIUSEPPINA (CASASANTA) DINELLO
PACENTRO, ITALY – A memorial Mass will be held at 2:30 p.m. on Sunday, July 21, 2013, at St. Christine Church, for Giuseppina (Casasanta) DiNello, 93. Mrs. DiNello passed away Wednesday, June 12, 2013, at her home, with her son by her side, after a short illness.
Giuseppina was born April 9, 1920, in Pacentro, the daughter of Concezio and Lucia Casasanta.
She was a homemaker, mother, grandmother and great-grandmother.
Her husband, Domenic DiNello, whom she married in April of 1939, passed away in 1943 in Russia, while he was a prisoner of war during World War II, serving with the Italian Army.
She leaves one son, Donato "John" DiNello and his wife, Virginia, of Boardman; and five grandchildren, Gregory DiNello and his wife, Meriem, of Canfield, Dr. Domenic DiNello of Canfield, Daniel DiNello of Poland, Josephine Nacarato and her husband, Anthony, of Canfield and Gianni DiNello and his wife, Elissa, of Pittsburgh.
She also leaves five great-grandchildren, Eric, Nicholas, and Alexis DiNello, Joseph and Domenic Nacarato; as well as three sisters, Maria DeChellis of Canton, Lauratana Bassi of Chieti, Italy, and Flora DeChellis of Poland; one brother, Francesco Casasanta of Pacentro; and several nieces and nephews in both America and Italy.
Besides her parents and husband, Giuseppina was preceded in death by two sisters, Julia LaLama and Adelina Lucci; and one brother, Guido Casasanta
The family will receive friends from 1:30 p.m. until the service at 2:30 p.m. on Sunday at St. Christine Catholic Church, 3165 S. Schenley Ave. in Youngstown.
Local arrangements were entrusted to the Schiavone Funeral Home.
Please visit www.schiavonefh.com to view this obituary and to send condolences.
Guestbook Entries
"John, Virginia and family my deepest sympathy. I remember Giuseppina in Italy. Always very nice and friendly. May she rest in peace. "
» Sandra Di Cicco on August 21, 2013
Sign the Guestbook
---