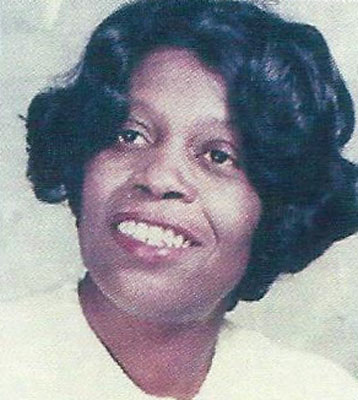 FRANCES S. DONALD
YOUNGSTOWN – A funeral service celebrating the life of Mrs. Frances S. Donald will be held Thursday at 11 a.m. at St. Andrewes A.M.E. Church. Mrs. Donald departed this life July 10, 2013, at ValleyCare Northside Medical center.
Mrs. Donald was born April 1, 1931, in Sumter, S.C., a daughter of James King Kennedy and Lydia Andrews, coming to the Valley many years ago.
Her husband, Felton Donald, whom she married in 1950, died in 1992.
She was formerly employed as a nurse's aide with the former Southside Hospital. She was an active member of the church, where she served with the William Heath Missionary, Senior Choir, Modernettes, Stewardess Board and was the former president of the Youth Department. She enjoyed spending time with her family and she will be missed by those who knew and loved her.
She leaves to cherish her memory, her loving children, Lenzy Donald, Joyce Callins, Monique Harris, and Tammy Donald, all of Youngstown, and Michael (Jackie) Donald of Byron, Ga.; her surrogate son, William Harris of Youngstown; two brothers, Robert ( Louise) Andrews of Pikesville, Md. and Sammie (Mabel) Andrews of Clarence, N.Y.; her sister, Wilhemenia (Hazel) Reed of Buffalo, N.Y.; six grandchildren; one great-grandchild; her godchildren, Jason and Jalayaa Martin, both of Youngstown; a host of other relatives and dear friends.
Besides her husband, she was preceded in death by her parents; a sister, Rose Conyers; and her grandchildren, Andr'e LaMont Callins and Patrick Michael Donald.
Friends may call Thursday, one hour prior to services at the church.
Interment will be at Tod Homestead Cemetery.
Please visit jewashingtonfuneralservices.com to leave condolences and to sign the online guestbook.
Ministry of comfort provided by the J.E. Washington Funeral Services Inc.
Guestbook Entries
"To the family mrs donald. It sad my heart to her the. Lost of beautiful. Person mrs donald. Was one of kind she will always be loved in our heart. Forever what ever went on at the martin she was always. Part of I will always. Rember mrs donald. For the loveing. Person. She was and always will be rest on for u will always be angle in our hearts "
» latony martin on July 17, 2013
"To the family mrs donald. It sad my heart to her the. Lost of beautiful. Person mrs donald. Was one of kind she will always be loved in our heart. Forever what ever went on at the martin she was always. Part of I will always. Rember mrs donald. For the loveing. Person. She was and always will be rest on for u will always be angle in our hearts "
» latony martin on July 17, 2013
Ms
"Learned of this today. Cousins, you have my deepest sympathy. Trying to reach some of you. 610 485 8279"
» Sara Frances Donald Owensy on July 17, 2013
"TO CHILDREN OF MRS. DONALD. MAY GOD BLESS AND KEEP EACH OF YOU AT THIS TIME. NO WORDS CAN TOUCH YOUR PAIN BUT, I AM REMINDED OF THIS AND, YOU SHOULD BE ALSO,...YOU HAD A WONDERFUL MOTHER WHO LOVED THE VERY GROUND YOU WALKED ON. SHE WAS A WONDERFUL PERSON AND, SHOWED LOVE TO OTHERS OUTSIDE OF HER FAMILY. SHE HANDLED YOU WITH KID GLOVES. I WILL MISS MRS. DONALD. YOUR IN MY PRAYERS. "
» JO-ANN WHITE-LONG on July 17, 2013
"my deepest sympathy to my bestie and her family. I know how much your mom meant to you and the huge hole this is going to leave in your life. Know that she is at rest and suffers no more. She is a cherished memory in your heart and is only a prayer away. I love you all."
» Rachel on July 17, 2013
"Our thoughts and prayers are with you. Your Mom's personality and friendship will truly be missed. The Guilford Family Louis, Sr., Brenda, Paula & Louis, Jr. "
» Guilford Family on July 18, 2013
"May Grace and Peace be with you always. Love for the family always. Erma Dawson, Jack, Cynthia(Johnson)Briggs, Valeria, Rochelle, Teresa and Gwendolyn(Johnson)Wilson."
» Johnson Family on July 18, 2013
"Lenzy and Family Know that God makes no mistake. Let the memories of your mother bring you comfort and peace during this difficult time. My prayers are with you."
» Diane Parkman-Clark on July 29, 2013
Sign the Guestbook
---