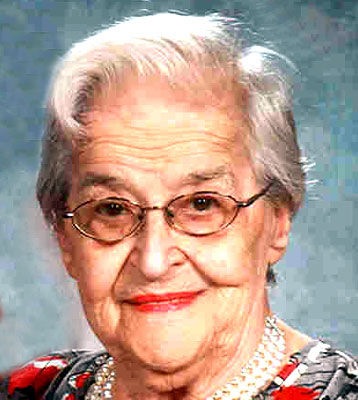 ANNE M. DZEDA
GIRARD – Anne M. Dzeda, 92, passed away Sunday, July 14, 2013, at her home.
Anne was born Sept. 19, 1920, in Warren, the daughter of Steve and Rose (Baka) Novak.
Anne was a member of the First Nursing Class at TMH and graduated as a Cadet Nurse in 1947. She worked as a nurse at TMH and at St. Joseph Hospital. Also, she was a nurse at Republic Steel, and later worked in local nursing homes. She was also a Red Cross volunteer at many blood drives.
She was a member of St. Rose Church, St. Rose Seniors, Catholics Women Club, St. Joseph Retirees, and TMH Retirees.
Anne married Edward R. Dzeda on Aug. 31, 1940.  He passed away in 2002.
She is survived by six sons, William Dzeda of Maryland, Thomas Dzeda of Florida, Mark Dzeda of Austin, Texas, James Dzeda of Florida, Edward Dzeda Jr. of Girard and Dr. Michael Dzeda of Philadelphia; one brother, William Novak of Champion; eight grandchildren; and two great-grandchildren.
She was preceded in death by her parents; her husband, Edward; and a brother, Steve.
The family will receive family and friends on Saturday morning, July 20, 2013, from 9:30 a.m. until 10:30 a.m. at the McClurkin Funeral Home.
There will be a Mass held Saturday, July 20, 2013, at 11 a.m. at St. Rose Church in Girard.
Burial will be at Girard City Cemetery. 
Please visit mcclurkinfuneralhome.com to send condolences.
Guestbook Entries
Sign the Guestbook
---