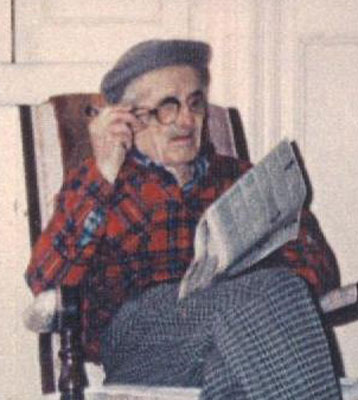 PAUL FRANCIS CURRAN
YOUNGSTOWN – Paul Francis Curran was born in Lorain, on July 20, 1919, the second son of James Patrick Curran and Martha Wagner Curran. Special jubilation accompanied the arrival of this healthy, happy, curly-haired boy. Just a few years before, his parents had buried a son just short of his first birthday.
Paul died at Hospice of the Valley on Saturday, July 13, just one week short of his 94th birthday. His sister, Elaine, with whom he had lived for the past 29 years since the death of his mother, was there with him as he prepared for his final trip to his Heavenly Home.
When Paul's father was transferred by U.S. Steel to Gary, Ind., Paul started school at St. Aloysius in Chicago. He left the sand piles of Lake Erie for the sand dunes of Lake Michigan. He always loved the water and by now he had two little brothers to play with in the sand. Life in Chicago was always remembered as a wonderful time. They visited the museums, took an exciting trip to visit relatives in Kansas and continued on to Yellowstone National Park and the Grand Canyon.
Then in 1931, the depression hit home when U.S. Steel closed it's doors. Paul and dad tried running an ice cream stand outside of the Chicago Cubs stadium, but soft-hearted as they both were, they ended up giving the ice cream to the poor kids who couldn't afford to go to the game. The next four years were spent with the whole family selling magazines and mother's cakes and pies. Then came the good news.
In March of 1935, the family was on the move again. Dad received a telegram asking him to come work at Republic Steel in Youngstown. He left the day after the new baby girl was born. The rest of the family followed on the 4th of July via the B&O excursion. Mom put her furniture on the street in Chicago, Paul hid beloved tools under the baby blanket in the basket. Once settled in Youngstown, Paul attended The Rayen School for it's commercial arts program and worked part-time for a local druggist. He graduated in January of 1938 and began working as a craneman for Republic Steel. On May 10, 1942, he joined the U.S. Army and for most of his duty was a radio man in Burma and India. He came back in December of 1945, unhurt except for the terrible memories of people dying from drinking from the Ganges River. Arriving in New York on his way home, he bought his little sister, who just loved to ice skate, a Sonja Henie doll. She still has it. Once home, he returned to his old job as a craneman at Republic Steel. Then he became ill and couldn't work a regular job.
Instead of being full of self-pity, he turned into the family Guy Friday. He remodeled the family home and his brother's home. One of his niece Mary's earliest memories is of "Uncle Paul" putting up paneling. Although he had no birth children, he poured his love into his nieces and nephews and the foster children that lived with the family. One foster child wrote years later that the six months he lived with Paul and mother were the happiest of his life. Paul took him on daily walks in the park, training him with life skills as they went along. "Uncle Paul, he was always there for us." He was the soundman for the late Father Ralph Friedrich's passion plays. He picked up a speaker in Indiana for the Catholic Interracial Council. He and a family friend, Tom McCarthy, kept Elaine's old bug going for three and a half years while she attended graduate school in Pittsburgh. He helped remodel Immaculate Conception School in Wellsville and drove his mother to the flea market so she could sell her antiques. Everyone who came to stay or visited loved him.
He is survived by his sister, Elaine; and three nephews and two nieces, Mr. James Curran (Carole) and their son, Jake of Afghanistan, Mary Hoard (Jeff) and daughter, Kristy and son, Josh and grandson, Jordan, Paul Curran, Tom (Maria) Curran and son, Michael, and Liz Santiago and her daughter, Dawn Hangman and her children, Serenity and Noah and son, Sgt. Ernest Cornwell (Sunyoung) and their two children, Ethan and Adina.
He was preceded in death by his parents and two brothers, James and Fr. Gerald Curran.
Up until Memorial Day weekend of this year, when Paul became very ill quite suddenly, he stayed mostly at home but still made his own toast and popcorn, fed himself, took care of himself and traveled around the house with a cane with purpose and speed.
He will be sadly missed by the family and special caregivers, Tom and Elaine.
Thanks go to special friends who stayed in touch and brightened his days, Rosemarie and Virginia Baratta and Father Stewart Platt.
The funeral service will be Wednesday, July 17, at 11 a.m. at St. Patrick's Church in Hubbard. Calling hours will be one hour before the Mass.
Please visit www.krcummins.com to view this obituary and to send condolences to the family.
Guestbook Entries
"Elaine, sorry about your brother's passing, what a life! I worked with you at the Procare program in Youngstown. "
» Nancy Inglefield on July 16, 2013
"Elaine,sorry to see about your brothers passing take care"
» john j thomas on July 16, 2013
"Elaine,sorry to see about your brothers passing take care"
» john j thomas on July 16, 2013
Sign the Guestbook
---