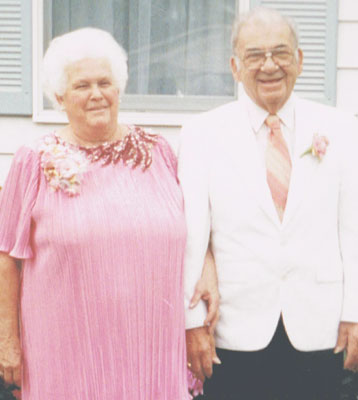 GENEVIEVE A. NODGE
"Together Again"
CORTLAND – Genevieve A. Nodge, 90, died on Monday, July 15, 2013, at 12:15 p.m. at the Community Skilled Health Care Centre in Warren.
She was born on May 24, 1923, in West Kittanning, Pa., the daughter of the late Stanley Charles and Mary Palinski Sobiski.
Genevieve was a homemaker and enjoyed spending time with her family, especially her grandchildren and great-grandchildren. She also liked to crochet and camp.
Mrs. Nodge was a member of the St. Roberts Roman Catholic Church in Cortland.
Survivors include her children, Joseph C. (Andrea) Nodge of Michigan, James (Joyce) Nodge of Pennsylvania, Mary (John) Pilipovich of Pennsylvania, Linda Nodge of Cortland, and Darlene (Harry) Bush of Florida; nine grandchildren; 22 great-grandchildren; one sister, Betty Bonanno of Pennsylvania; and one sister-in-law, Rose Filipovich of Brookfield.
Other than her parents, Genevieve was preceded in death by her husband, Lester Mike Nodge on Aug. 22, 1994, they were united in marriage on May 23, 1942.
The family wishes to thank the staff of the Community Skilled Health Care Centre and also the All Caring Hospice for the care taken with their mother.
A Mass of Christian Burial will take place at St. Roberts Roman Catholic Church, 4659 Niles-Cortland Road NE in Cortland at 11 a.m. on Friday, July 19, 2013, where the Rev. Fr. Carl Kish will celebrate Genevieve's life.
Family and friends may gather at the Lane Family Funeral Homes, Shafer-Winans Chapel, 164 North High St. in Cortland from 5 to 7 p.m. on Thursday, July 18, 2013. Also, morning prayers will take place on Friday at 10:30 a.m. before going to the church.
Burial will take place at the Hillcrest Memorial Park in Hermitage, Pa.
In lieu of flowers, memorial contributions may be made to the All Caring Hospice, 6715 Tippecanoe Road, Bldg. B, Suite 101, Canfield, Ohio 44406.
Please visit www.shaferwinanschapel.com to e-mail condolences.
Guestbook Entries
"My heart goes out to the Nodge family. Even tho she was not my Grandma, she always said to me, "Call me Grandma Nodge" when I was a girl. One of a kind lady.My cousins were so luck to have her as their Grandmother. "
» Robyn Manda on July 16, 2013
Sign the Guestbook
---