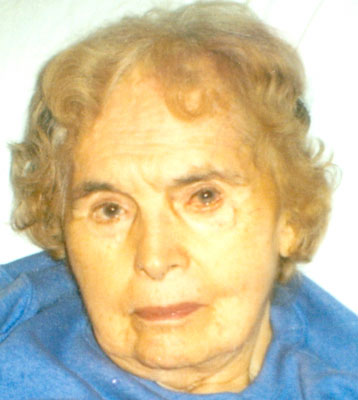 MARY STEFANIC
GIRARD – Mary Stefanic, 96, passed away Saturday, July 6, 2013, at Autumn Hills Nursing, after a long illness.
Mary was born June 17, 1917, in Gaylord, a coal mining town, the daughter of the late Stephen and Borbal Konkoly Bernay.
She was a 1936 graduate of East High School, a "Golden Bear" forever. Mary was very proud of this. Mary worked at Republic Steel Truscon Division, G.M. McKelvey Department Store, Benata Aluminum Company and she was a nurse at St. Elizabeth Hospital for 24 years. She loved to spend time with her family.
Mary was a member of St. Rose Church and Altar Rosary Society. Mary would visit the ill parishioners of St. Rose, the Home Visitation Program.
Mary is survived by her two sons, Stephen Stefanic and Michael Stefanic of Girard.
She was preceded in death by her parents; husband Michael Stefanic, of 60 years of marriage; son John Stefanic; two sisters, Margaret Miller and Elizabeth Bernay; and two brothers, John and Stephen Bernay, all were from Youngstown.
The family would like to thank the nurses and staff at Autumn Hills Nursing home for the care given to Mary for over five years.
A Mass of a Christian Burial will be held on Thursday, July 11, 2013, at 11 a.m. at St. Rose Church, preceded by prayer service at 10:30 a.m. at the Blackstone Funeral Home.
The family will receive relatives and friends today from 5 to 7 p.m. and also on Thursday from 10 to 10:30 a.m. at the funeral home.
Interment will be held at Calvary Cemetery.
Guestbook Entries
« Be the first to sign MARY STEFANIC guestbook.
---