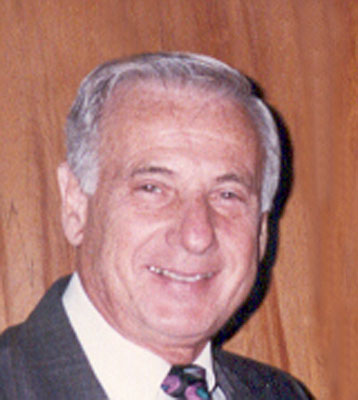 GUY R. SIMEONE
NILES – Guy R. Simeone, 86, passed away at 12:53 a.m. on Tuesday, July 9, 2013, at St. Joseph Health Center in Warren following an illness.
He was born Feb. 6, 1927, in Niles, the son of the late Leonard and Mary Ravella Simeone.
Guy attended Niles McKinley High School and served in the U.S. Army and Air Force during World War II.
Guy married the love of his life Theda Mae Stanley on his birthday, Feb. 6, 68 years ago.
Guy worked as a teamster and supervisor for Nickels Bakery and Penn-Ohio Towel Company. Up until February he served as the bailiff for Judge Thomas Townley at Niles Municipal Court, a job he loved.
He was a member of Our Lady of Mount Carmel Parish in Niles, the Niles McKinley High School Hall of Fame, member and past King Lion of The Niles Lions Club, and the Niles American Legion Post 106.
Guy was passionate about sports, most notably Red Dragon football, where he was honored to be a lifetime member of the Niles Frontliners Club. He enjoyed golf and was a diehard Ohio State, Indians and Browns fan.
Guy is survived by his wife, Theda Simeone; four children, Sherry Flarey (Anthony), Bruce (Fran) Simeone, Barbara Simeone, and Thomas Simeone (Linda), all of Niles; eight grandchildren, Jeff Simeone of Cleveland, Dr. Anthony (Lisa) Flarey of Zanesville, Chrissy (Jeff) Schneider of Wooster, Keith (Kate) Simeone of Cleveland, Julie Simeone of New York, Thomas Simeone of Milwaukee, Jonathan Wike of Niles, and Jimmy Simeone of Cleveland; six great-grandchildren, Jillian, Molly, Noelle, Nicholas, Jenna and Jordan; a sister, Carmel Perrico of Youngstown; a brother, Anthony Simeone (Ruth) of Huntsville, Ala.; and many loving nieces, nephews, cousins and friends.
He was preceded in death by his brother, Nick Simeone; and a sister, Rose Bergana.
Friends may call from 5 to 7 p.m. Thursday at the Joseph Rossi and Sons Funeral Home in Niles, where the Niles Lions Club will conduct prayers at 6:30 p.m.
A Mass of Christian Burial will be held at 10 a.m. Friday at St. Stephen Catholic Church in Niles with Fr. Thomas Kraszewski officiating.
Burial will be at Niles City Cemetery, where Guy will be honored for his military service by the Trumbull County American Legion Honor Guard.
Family and friends can visit www.josephrossifuneralhome.com to view this obituary, sign the guest book, and send e-mail condolences.
Arrangements are being handled by the Joseph Rossi and Sons Funeral Home in Niles.
Guestbook Entries
MR.
"PLEASE ACCEPT MY SINCERE SYMPATHY FOR YOUR LOSS, GREG"
» GREG MARSTELLER on July 10, 2013
Sign the Guestbook
---