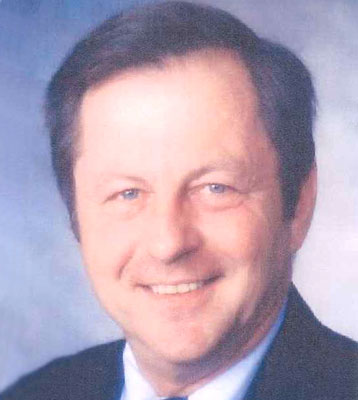 GEORGE T. POLYA
SALEM – Funeral services will be held at noon on Thursday at the Davis-Becker Funeral Home for George T. Polya, 71. He passed away Sunday night from heart failure.
George was born Aug. 18, 1941, in Campbell, a son of George and Sophie.
He was a supervisor in the body shop at General Motors-Lordstown. He retired with 30 years of service. After retiring, he passed the time mowing the fairways at Salem Hills Golf Course.
George was a life-long Cleveland Browns and Cleveland Indians fan. He enjoyed his time fishing on the lake and loved spending weekends at the campground.
George was a proud veteran of the U.S. Army, where he certified as a Radio Teletype Operator.
Surviving him is his wife, the former Margaret "Peg" Dunmire, whom he married Oct. 26, l971; a son, George (Alena) Klass of Salem; a daughter, Vicky (Randy) Cramer of Boardman; and three sisters, Gerry (Al) Frederick of Newton Falls, Judy (Jim) Chrapcynski of Naples Fla., and Gayle Decioccio. He also leaves three children from a previous marriage, Debbie (Virgil) Minniti, Dale Polya and Cheri (Dan) O'Cale.
He was "Zedo" to Bryan (Kristen) Cramer, Savanna (Mike) Barton, Zackary Klass, Amanda and Mark Cramer.
Preceding him in death besides his parents and stepmother, Callie Polya, are his brothers, Dayle Polya, Everett Whitehouse, Frank Whitehouse and Gary Gaida.
Friends may call Wednesday from 5 to 7 p.m. and Thursday from 11 to 11:45 a.m., both at the funeral home, 8536 Market St., Boardman.
According to George, "There were no strangers, only friends he hadn't met yet."
The family requests that material tributes take the form of contributions to the American Cancer Society, 250 N. Broad St., Canfield, OH 44406
Visit www.beckerobits.com to send condolences.
Guestbook Entries
"I love you Zedo...always"
» Vicky Cramer on July 9, 2013
"A man's man, real friend, and brother, not just brother in law."
» Bill Dunmire on July 9, 2013
"I worked for him when he moved to the fab plant . He was a grate boss for Christmas he whoud give us gifts like Susan B "
» Andre Morales on July 11, 2013
Sign the Guestbook
---