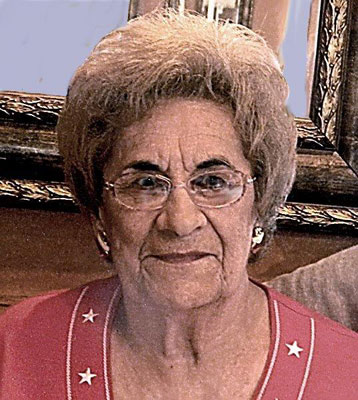 ELIZABETH C. SWIDER MARUCCI BERQUIST
YOUNGSTOWN – Elizabeth C. Swider Marucci Berquist, beloved wife, mother, grandmother, great-grandmother, sister, and friend, passed away unexpectedly, July 4, 2013, at her home of 60 years, just five days after celebrating her 89th birthday.
Elizabeth, who was known to all as "Betty," was born in Youngstown on June 29, 1924, the fourth child of the late Anthony and Josephine Pienta Swider, graduated from the South High School in 1942, and lived most of her life in the area.
A homemaker, Betty also worked at General Electric Mazda Lamp Plant, and for Strouss' Department Store in Boardman.
Her family was her life's work and she has left all those who knew her many happy memories. Betty enjoyed baking, cooking, gardening, crocheting, crossword puzzles, and maintaining a "spotless" home.
Mrs. Berquist was a member of St. Christine Church in Youngstown.
Her first husband, Leonard L. Marucci, whom she married in 1945, passed away March 2, 1949. Her husband, Alexander D. Berquist, whom she married Aug. 2, 1952, passed away April 2, 2013.
Betty leaves four sons, Leonard L. (Deborah) Marucci of Venice, Fla., George (Susan) Marucci of Canfield, Daniel M. Berquist of Royal Palm Beach, Fla., and Robert W. (Paulette) Berquist of Bessemer, Pa.; nine grandchildren, Jason (Maria) Marucci, Leone (Gwen) Marucci, Ria (Jason) Forchione, Dominic (Kelli) Marucci, Leslee (Giuseppe) Sorice, Chad (Melissa) Berquist, Matt (Chrissy) Berquist, Josh Berquist, and Alicia Berquist, whom she raised for 19 years; and 20 great-grandchildren.
Besides her husbands, Betty was preceded in death by a brother, Joseph Swider and his wife, Regina; three sisters, Helen Pasiak and her husband, Joseph, Mary Schulay and her husband, Steve, and Bernice Mika and her husband, Henry; and two infant brothers.
Family and friends may call from 9:30 to 10:30 a.m. on Wednesday, July 10, at St. Christine Church, where a memorial service will take place at 10:30 a.m.
Interment will follow at Calvary Cemetery in Youngstown.
Memorial contributions may be made to Hospice of the Valley, 5190 Market St., Boardman, OH 44512, in memory of Betty's husband, Al.
Arrangements were entrusted to Kinnick Funeral Home, 477 N. Meridian Road, Youngstown.
Visit kinnickfuneralhome.com to view this obituary and to send condolences online to Betty's family.
Guestbook Entries
"I am so sorry for the loss of your Mom and your Dad. They are together in Heaven now and watching over all of you. God Bless You."
» Sue Reilly Basen on July 9, 2013
Sign the Guestbook
---