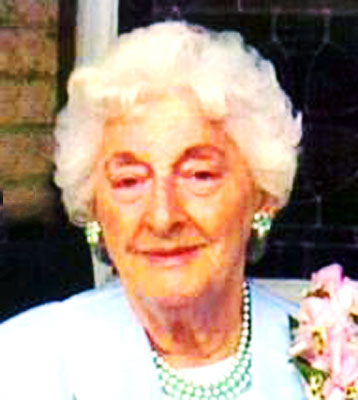 DIANA C. SWEED
HUBBARD – There will be a Mass of Christian Burial held on Wednesday, July 3, 2013, at 1 p.m. at St. Patrick Church in Hubbard, preceded by a prayer service at noon at the Rossi & Santucci Funeral Home, 4700 Market St., Boardman, for Diana C. Sweed, 92, who peacefully passed away early Saturday morning, June 29, 2013.
Diana will always be remembered and loved by her family and friends.
She was born Nov. 17, 1920, in Hubbard, the daughter of Alphonso Pannuzzio Patrick and Margaret (Marinelli Cereimele) Patrick and was a lifelong area resident.
Diana was a graduate of St. Patrick Elementary School. She spent her entire life caring for others. Diana could not continue on with her education because of her mother passing away in 1943. She assumed the responsibility of becoming an instant caregiver and mother figure for her brothers and sisters. Once her two oldest brothers left to fight in the war, she was assigned all the motherly duties to raise the rest of her siblings.
As an outstanding home-maker for her siblings, but then as well for her own children, Diana always put her family first and they were the center of her life. They will miss here outstanding Italian cooking and baking, especially her famous beans and greens, to polenta, to homemade cavatelli and braciola. She had a talent for whatever dinner she made had that great Italian flair. Her backyard garden was her pride and joy.
She was a lifelong active member of St. Patrick Church, where she was very instrumental in the organization with the building for the new St. Patrick Church. She offered countless hours volunteering for all the activities, especially working on the annual festival and fish fry's. Diana was a devout Catholic and especially enjoyed praying the Stations of the Cross.
Her husband, Leroy Sweed, whom she married Feb. 26, 1947, died June 18, 1996.
She leaves behind to hold on to her precious memories, two sons, Robert P. Sweed of Hubbard and Jerry (Anita Bogan) Sweed of Canfield; three grandchildren, Kimberly Anne (Jason) MacDonald of Poland, Kerrie Anne Sweed of Monroeville, Pa., and Kristopher Sweed of Dublin; a great-granddaughter, Sydney Anne; two sisters, Margie (Roland) McCullough of Hermitage, Pa. and Lucile Tapper of Chicago; a brother, Alphonso "Sonny" (Gerri) Patrick of Chicago; and her beloved dogs, Louie and Bubbles, who have provided countless hours of companionship.
Besides her parents and husband, Diana was preceded in death by her brothers and sisters, Anthony, Josephine, John and Joseph Patrick, Rose Bruno, Merceda Evakich, Florence Dutko and Mary Theresa Schaeffer.
Friends may call on Wednesday, July 3, 2013, from 10 a.m. until 11:55 a.m. at the Rossi & Santucci Funeral Home, 4700 Market St., Boardman.
Burial will take place next her husband at Hubbard Union Cemetery.
Family and friends may visit www.rossisantuccifh.com to view this obituary, sign the guest book and send condolences to the Sweed family.
On behalf of Diana's family, they would like to give a special thank you to the entire staff of the Briarfield Manor for all the care, support and compassion shown to them during Diana's time of illness.
Guestbook Entries
"To Kerrie n family. Deepest sympathy n love."
» Elaine Glorioso Fallat on July 1, 2013
Sign the Guestbook
---