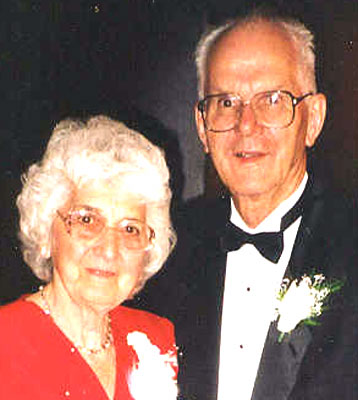 MILKA KREGAR
"Together Again"
GIRARD – Milka Kregar passed away Wednesday morning, Jan. 30, 2013, at Liberty Health Care.
Milka was born June 17, 1925, in Sodrazica, Slovenia and emigrated to the United States in 1949. Milka was the daughter of Ivan and Franciska Trdan Kozina.
Milka was a 1942 graduate of a seamstressing school and was a professional seamstress in the Girard area for many years.
She was a devout member of St. Rose Parish in Girard. Milka was an auditor for AMLA (American Mutual Life Association) Lodge No. 42 and an auditor for SWU (Slovenian Women's Union) Branch No. 55 in Girard.
Milka was a great cook and baker. She enjoyed singing, gardening, embroidering, and especially crocheting slippers for her family.
Milka is survived by her four daughters, Maria (August) Selak and Anka (Michael) Krakora of Girard, Martha (Vincent) Rozman of Richmond Heights and Dori (Thomas) Fooy of Warren, Mich.; a brother, Reverend Vladimir Kozina; sister, Karolina Kozina; 12 grandchildren, Andrea, Mark (Molly), and Monica Selak, Vera (Teo) Marty, Peter (Ashley), Luke, Kevin, Paul David, and Tina Rozman, Anna and Nicolas Fooy; two great-grandsons, Rogan and William Selak; and one great-grandson on the way.
Milka was preceded in death by her husband, Frank Kregar, whom she married Aug. 2, 1949, at Gospa Sveta Church in Austria; three sisters, Marja Kozina a Poor Clara Sister, Franciska Kozina and Albina Odar; and five brothers, Janez, France, Jozef, Jozef and Stanko Kozina.
Calling hours will be Friday, Feb. 1, 2013, from 5 to 8 p.m. at the McClurkin Funeral Home in Girard.
There will be a funeral Mass on Saturday at 10:30 a.m. at St. Rose Church in Girard. 
There will be prayers at 10 a.m. on Saturday morning at the McClurkin Funeral Home prior to the church Mass.
In lieu of flowers, the family requests that memorial contributions go to St. Rose Church, the St. Rose Angel Fund.
Guestbook Entries
"So sorry for your loss. You are all in our prayers. God bless you. Love Tamra and Jim Zielinski"
» Tamra and James Zielinski on February 1, 2013
Sign the Guestbook
---