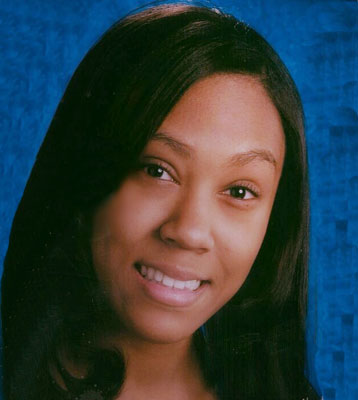 ARIS DONSHAE BISHOP
PORTLAND, ORE. – A funeral service celebrating the life of Ms. Aris Donshae Bishop will be held Thursday at 1 p.m. at the Washington Funeral Home.
Aris Donshae Bishop was a beautiful angel who landed on earth on Dec. 17, 1993, to parents Faith A. Bishop and Aubraye Dawson in Youngstown. Her work here on earth ended on Jan. 22, 2013, in Portland.
Aris was a creative young woman who could be found doodling, sketching, or writing. She enjoyed cheerleading and volunteering in the community.
She leaves to cherish her memory, her loving and dedicated mother, Faith Bishop of Houston; her caring father, Aubraye Dawson of Columbus; her special grandmother, Willena Bishop of Portland; her grandfather, Joseph Bishop of Youngstown; her grandparents, William T. and Leslie F. Dawson, and Crystal Prisby, all of Youngstown, and Raymond Prisby III of Waldorf, Md.; her great-grandmother, Betty Zahniser of Youngstown; a host of uncles, B. Lyndelle Fountain of Portland, Raymond Prisby IV and William Dawson Jr., both of Youngstown, Travis Jones of Columbus, and Joseph M. and Stephen J. Bishop, both of Florida; her aunts, Arenda Prisby of Waldorf, Demetria Dawson-Winston of Killeen, Texas, and Shannon Morgan of San Antonio; her godmother, Keona Berry of Columbus; her godfather, Ernest (Sonia) Burt of Fort Lauderdale, Fla.; her best friends, Kaitlyn Kowal of Youngstown and Darian Ralstin of Portland; and a host of cousins, friends and other loved ones.
Friends may call Thursday one hour prior to services at the funeral home.
Interment will be at Tod Homestead Cemetery.
Please visit jewashingtonfuneralservices.com to leave condolences or to sign the online guestbook.
Guestbook Entries
"MAY GOD GRANT YOU PEACE AND UNDERSTANDING FOR YOUR LOSS...GOD BLESS YOU ALL...THE ENTIRE FAMILY OF ARIS BISHOP; SHE WAS TRULY AN ANGEL. LOVE, THE RICE'S"
» TERESA on January 30, 2013
"Faith, you and your family have my deepest sympathy. The pain of the loss of such a child is unimaginable. You are in my prayers."
» Dede Sims-Warren on January 30, 2013
"Faith May God Bless and Keep You and Your Family during this time of such a great loss! You have my prayers and sympathy!"
» Ms Baldwin on January 30, 2013
"Faith May God Bless and Keep You and Your Family during this time of such a great loss! You have my prayers and sympathy!"
» Ms Baldwin on January 30, 2013
"Faith May God Bless and Keep You and Your Family during this time of such a great loss! You have my prayers and sympathy!"
» Ms Baldwin on January 30, 2013
"May you have love and comfort day and night and day and day and night for as long as you need it. "
» Charlotte on January 30, 2013
"Faith - I am so sorry to hear about the loss of your daughter. You and your family are in my thoughts and prayers."
» Angie on January 31, 2013
"So sad I couldn't get there. I miss her now, and will miss her forever, but I'm sure that she's at peace, and knows that she was loved."
» Kourtney D on January 31, 2013
"Faith so sorry to hear about your loss may God Bless you & watch over you precious Angel...."
» Claudia & Lou Lawrence on January 31, 2013
"My prayers are with you Faith and family, for God to keep you and bless you. Stay strong in the Lord. Love you."
» Michelle D on February 1, 2013
"Praying for your strength at this most difficult time. Sending you lots of love!"
» Cheryl F on February 1, 2013
"God promises a resurrection for all, to a chance for life again in Paradise on earth. http://wol.jw.org/en/wol/d/r1/lp-e/2005601"
» Amos on February 3, 2013
Friends
"Faith you were such a great person and me and Aris were good friends! I remember all the memories of going bowling sad to see such a good friend go. R.I.P 1.22.13"
» Evan Collins on February 19, 2013
"Faith, so sorry to hear about Aris. You truly have my sympathy and condolences. Praying for you still."
» TANISHA BOWMAN on March 4, 2013
"I just thought of you today. Even though we weren't very close friends, you were such a sweet girl and I always enjoyed your company. Rereading the article about you today brought me to tears again. You will always be loved and missed by everyone, Aris. <3"
» Maria F on September 27, 2014
Sign the Guestbook
---