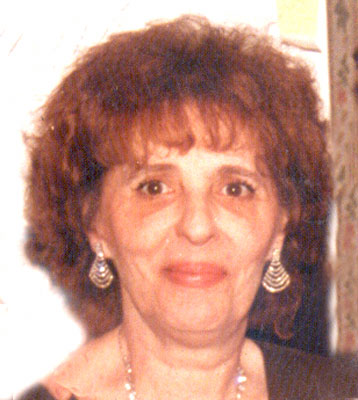 ELIZABETH 'BETTY' PAPAHARALAMBOS DICENZI
NILES – Elizabeth "Betty" Papaharalambos DiCenzi, 79, died Sunday, Jan, 20, 2013, at 10:45 p.m. at Shepherd of The Valley in Niles, in her daughter, Mary Kay's arms.
Betty was born Nov. 11, 1933, in Weirton, W.Va., the oldest daughter of Nicholas and Catherine Biggins Papaharalambos.
Betty was baptized at St Nicholas Orthodox church on Nov. 16, 1933, in Weirton. Her godparents, now deceased, were Marcus Nikitas and Mary Lesko with the Rev. Theodore Kondratick officiating.
Betty was a graduate of Warren G. Harding, the home of the proud WGH Black Panthers. Betty graduated in the January class of 1953 and was employed by the Ohio Department of Family Services in Trumbull County and previously was employed by the Trumbull County Answering Service.
She was a member of St. Demetrios Greek Orthodox Church her entire life, singing in the choir in early childhood, teenage, and young adult years.
Betty was an advocate for anyone who needed any type of help and was generous donor to the Salvation Army and also the Warren Mission.
Betty especially loved to travel to Mountaineer, Las Vegas, watch boxing events, and golf, hopefully wishing a win for her buddy, Tiger Woods, and retired boxers, Sugar Ray Leonard, and Evander Holyfield.
Survivors include her spouse and love of her life, Adolph "Bob" DiCenzi of Niles, whom she married in 1989; her three children, Mary Kay (James) Tsigaras-Shader of Niles, Lisa Tsigaras of Warren, and Robert Eugene (Shonda) PeQueen Jr. of Niles; and grandsons, Robert Eugene PeQueen III, Jonathan Nicholas PeQueen, Brian Fields, and Austin Angus, all of Niles; and two stepdaughters, Bobbie and Marilyn.
She will be sadly missed by her sister, Frances Vansuch of Easton, Pa., as well as nieces, nephews, great-nieces and great-nephews.
Betty also leaves her longtime "brother," Alan "Ben" Bensky and her very best friend, Toni Durst, whom she loved to spend time with on the phone or on the slots machines.
She was preceded in death by her parents; two brothers, George Papaharalambos and Nicholas Papaharalambos; a sister, Mary Rosa; and her brother-in-law, The Very Rev. Eugene Vansuch.
Calling hours were held Tuesday at the Joseph Rossi and Sons Funeral Home in Niles, where a Trisagion prayer service was held.
Services will be at 11 a.m. today at St. Demetrios Greek Orthodox Church, with Rev. Constantine Valantasis officiating, preceded by a 10:15 a.m. prayer service at the funeral home.
Burial will be at the Niles City Cemetery.
Betty was an advocate for the homeless and disabled.
Memorial donations should be made to the food panty at St. Demetrios Greek Orthodox Church, c/o Joseph Rossi and Son Funeral Home in Niles.
"A very special thank-you to Linda, LPN at SOV for her courage and valor at our time of need.
May, Elizabeth, Servant of thy Lord Jesus, Rest in Peace."
Friends may visit www.josephrossifuneralhome.com to view this obituary, sign the guest book, and send e-mail condolences.
Guestbook Entries
« Be the first to sign ELIZABETH 'BETTY' PAPAHARALAMBOS DICENZI guestbook.
---