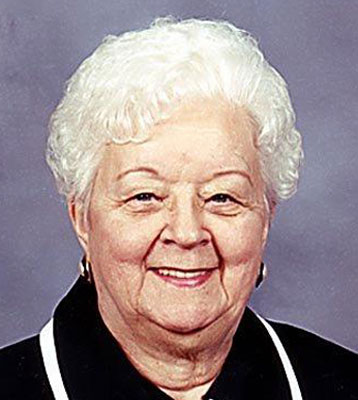 MARY FERKULA NAPLES
AUSTINTOWN – Mary Ferkula Naples, 95, formerly of South Bruce Street in Youngstown, passed away peacefully Friday afternoon, Jan. 18, 2013, at Heritage Manor in Youngstown, with her family by her side.
Mary was born July 27, 1917, in Campbell, a daughter of the late Jacob and Barbara Ferkula, and was a lifelong area resident.
She was a homemaker and also worked as an assembler at Packard Electric in Warren for 20 years, retiring in the 1970s.
Mrs. Naples was a member of St. Joseph Church in Austintown. She was a former member of Sacred Heart Church in Youngstown, its Ladies' Guild and was a member and president of its senior citizens group. Mary also belonged to the St. Anthony Church Senior Citizens.
She was an avid bingo player and enjoyed bowling.
Her husband of 60 years, Rocky J. Naples, whom she married Jan. 17, 1937, passed away Aug. 2, 1997.
Mary is survived by five daughters, Vicki (Ronald) Lewis of Hubbard, Barbara (Jerry) Cox of Hubbard, Madeline (Frank) Praznik of Pittsburgh, Fran D'Amico of Austintown, and Kathy (Rick) Galik of Austintown; 16 grandchildren, Bob (Kim) Lewis, Vicki (Dave) Tyburski, Ronald Lewis Jr., Janine (Gary) Younkins, Jackie Jones, Jerry Jr. (Jana) Cox, Jill Cox, Frank (Melinda) Praznik, Kathy (Burt) Stultz, Dawn Marie (Sean) Turner, Shannon (Joe) Kirila, Joe Jr. (Cindy) D'Amico, Michelle D'Apolito, Shelley (Matt) Futkos, Tracy (Steve) Winans, and Nicole (Donnie) Anderson; 32 great-grandchildren; a great-great-granddaughter; and a sister, Ann Yanoski of Youngstown.
Besides her husband, Mary was preceded in death by three brothers, Steve, John, and George Ferkula; two sisters, Josephine King and Katherine Laczo; and a son-in-law, Joe D'Amico.
Family and friends may call from 10 to 11 a.m. on Tuesday, Jan. 22, at St. Joseph Church, 4545 New Road, where a Mass of Christian Burial will be celebrated at 11 a.m.
Interment will take place at Resurrection Cemetery in Austintown, where Mary will be laid to rest next to her husband.
Arrangements have been entrusted to Kinnick Funeral Home, 477 N. Meridian Road, Youngstown.
Visit kinnickfuneralhome.com to view this obituary and to send condolences online to Mary's family.
Guestbook Entries
"my condolences goes out to the naples girls, i still remember the days we had when you all lived on poplar st in brier hill"
» gene modarelli on January 20, 2013
"GOd bless you all we know its been a long journey and you were all a blessing to aunt mary ! God bless and trust love ya"
» Annieand Tom Snyder on January 20, 2013
"Sorry for your loss, our thoughts and prayers are with you all. Take Care of each other. "
» Chuck and Vicky Hanni on January 20, 2013
Sign the Guestbook
---